Somewhere in the New York Jets offices in Florham Park NJ, a meeting will soon be held to revise the corporate social media policy.  The Jets made two mistakes on Twitter on Wednesday and they were both embarrassing to the organization.
The Jets have always been cautious when it comes to breaking news on their own.  They typically sit back and comment only when the dust has settled.  Today they announced the Tebow trade on Twitter before the contract snag was exposed.  They basically announced it on Twitter before the paperwork had been filed with the league.
[tweet_embed id=182509549285163008]
After the Jets and Broncos agreed to split the difference on the 5 million dollar difference the trade then became official.  The drama did not end there for the Jets though.  Shortly after the Jets announced the Tebow trade, the Washington Redskins chimed in with this tweet:
[tweet_embed id=182526346185015296]
Looks like the Redskins need to implement a new social media policy as well.
Somehow through a day that was filled with pure craziness, the Jets managed to save the best for last.  The New York Jets official Twitter account had this exchange with New Orleans Saints quarterback Drew Brees: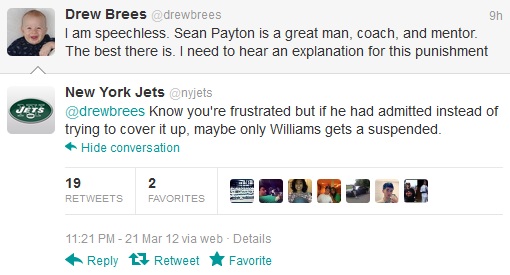 That is inexcusable, there is no way the Jets should comment publicly on events that involve other teams.  I am speculating here, but whoever sent that tweet from the Jets account most likely thought they were logged in to their personal account.  That is a dangerous game and it will be the topic of many internal discussions at Florham Park this week.
The Jets would be wise to save the, "We were hacked" story and just admit that they made a mistake.  You can see fan reaction to the deleted tweet by the Jets in our forum.