Jet Nation Interviews Safety Jim Leonhard
Jets 2011 starting safety Jim Leonhard's season was cut short by an unfortunate knee injury.  Leonhard is currently an unrestricted free agent but news of his health and contract talks with the Jets have been relatively quiet.
Leonhard was known as the 'quarterback' of the secondary, often setting the type of coverage to be used.  The Jets are thin at the safety position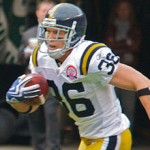 and while most fans would love to see him in the green and white his injury status is a cause for concern.  I recently had an opportunity to ask him a few questions regarding his health and possible future with the Jets:
Q: How is the rehabilitation on your injured knee coming along?
A: Rehab is doing great.  It's a process obviously but no setbacks up to this point, so we're looking forward to getting this going.
Q: How do you see yourself going into the season, do you think you'll be able to start the season or will you have to maybe miss a portion?
A: At this point I see no reason, why I wouldn't be back at the beginning of the season, (with) the timeline they have given me.  Like I said, the way things have been going, I feel comfortable saying I'll be back at the beginning of the year.
Q: It's an important year, you're a free agent, and obviously Jets fans want you to come back.  As far as the negotiations go what are you open to and what are you really looking for?
A: I'm open to a lot of things right now.  I've enjoyed my time in New York.  It's been a great two year run.  You'd like to come back.  I love the guys, I love the coaches, Rex (Ryan) is the reason I'm here.  I definitely like coming back and whatever that means.  I just got to get healthy and you never know what's going to happen.
Videos
NY Jets Phase 3 OTAs, Expectations and a Minor Calf Tweak with Greg Renoff