NY Jets Mini-Camp Recap June 14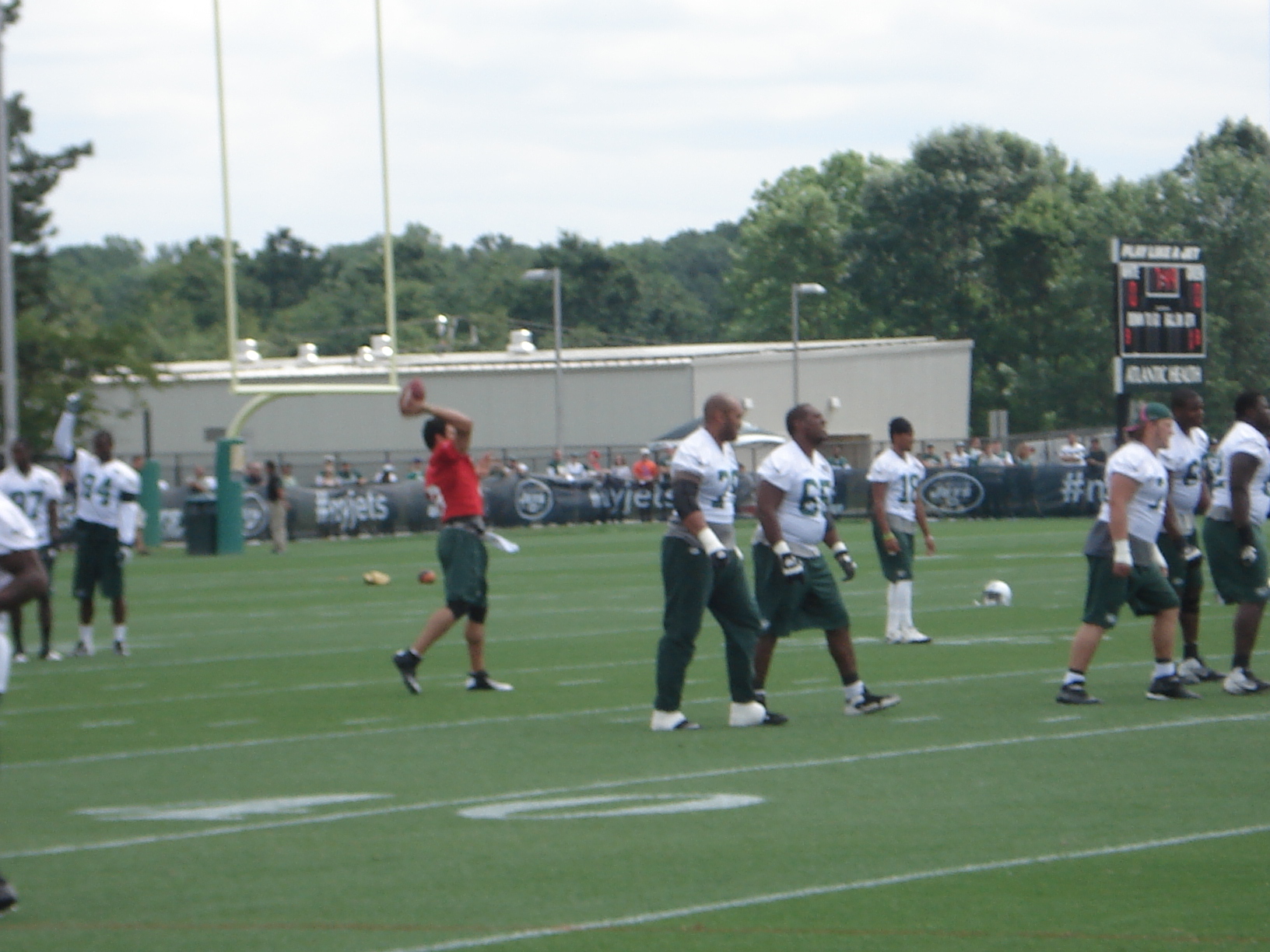 Today was the last of the Jets minicamp practices and Jetnation was fully represented with Courtney Aurillo, myself and "Boss-Man" Phil Sullivan helping with observations.  Practice was shorter and less intense then yesterday as the team prepares to break away from any mandatory activities for awhile.  Of course quarterback Mark Sanchez will hold his annual "Jets West" voluntary practice with many of the skilled players before training camp opens.
As far as quarterback goes it's been reported that Tim Tebow worked with the first team and was with them again at points, not in full drills, in practice today.  Still don't really know what this means because Sanchez performed better then Tebow in practice and as someone who has seen Sanchez throw up close before, Rex Ryan is correct, Sanchez is throwing the ball with more authority.  It does make sense for Tebow to get some work with the first team, he'll likely be running plays in games with them, but of course the main-stream media makes some ridiculous controversy out of it.
It's not as much as the stats that many beat reporters tweet (Sanchez 4-9 in 11-on-11 drills) but using the "eye test" which matters.  Sanchez looked better dropping back and going through his read progression.  Tebow "is what he is" a pro-style quarterback in progress, but he threw plenty of nice passes and, as advertised, runs well.  The feeling one should get is the stars are aligned properly Tebow is the back-up and will run plays designed for his strengths while Sanchez will run the base offense.  Training camp and pre-season may change this but the Jetnation contingent felt the above analysis is solid for now.
There is some cause for concern on the offensive line while it is difficult to evaluate fully without pads Jets fans should hope Matt Slauson is ready for camp.  Vladimir Ducasse is not where he needs to be and looks confused at times, so don't buy what Rex is selling about him.
Much maligned tackle Wayne Hunter often looked a step slow to the outside rusher, a problem which persisted last year.  He can't give up almost 9 sacks and have 11 penalties in 2012 for the offense to be successful. Personally I'm pulling for Hunter who works hard but he'll need to show better first step in training camp and pre-season otherwise it might be a long year again.
Now is fairness to the offensive line defensive ends Quinton Coples and Muhammad Wilkerson look like complete players on the field.  They move well stunting or power rushing and most impressive still getting pressure even when being double teamed.  The more players the defensive line eats up the more effective the defense is and Coples/Wilkerson are difficult to move even with two blockers.
Saw enough of Kenrick Ellis working in for Sione Pouha to make you feel he's ready to have a productive year.  Hopefully his legal problems now behind him before training camp opens will allow for more than the seven tackles he had as a rookie.  Ellis seems to possess the size needed to play the nose-tackle and with more four-man defensive fronts being used he will be an important piece to the defenses success.
Rookie Josh Bush was being used once again as he was sent on a blitz and got pressure.  You can defiantly see the versatility in the different defensive packages rookies Bush and Demario Davis look promising while Aaron Maybin has a chance to thrive this year.
Undrafted cornerback Royce Adams was a lesser name who stood out during the practices.  He was worked in with different defenses and was sent on blitzes and dropped in coverage.  It seems like the Jets like what they see out of Adams and are giving him opportunities to show case his talent.
Adams played corner and receiver in college at Purdue and was with the AFL in 2011.  Signed on January 7, 2012 to a reserve/futures contract apparently Adams and the Jets feel he is best suited to play defensive back.  With the Jets in need of a fourth corner fans should put Adams on their radar as a player to watch during training camp.
Another undrafted rookie is wide receiver Royce Pollard he had some nice catches and returned kickoffs.  Pollard is getting more reps with Santonio Holmes, Stephen Hill and Patrick Turner limited and may have a shot with the special teams.  He is more likely to end up on the practice squad but is someone to keep an eye on in the future.
Just to touch on the tight ends like yesterday Dustin Keller and Jeff Cumberland looked good.  Cumberland dropped a couple passes early but came on with some nice grabs late.  He is running well and was starting to come on as a player last year before his injury.  If Cumberland can recover fully he has a good chance to solidify that number two tight end position.
It is obvious that coordinator Tony Sparano wants to feature Keller in his offense.  Sparano will look to create miss-matches or draw coverages moving him around.  Looks like Keller will be a focal point of the offense which is good since Sanchez has had good chemistry with him in past seasons.
Videos
Aaron Rodgers Injury Fallout & Jets/Bills Recap