Home Slider NY Jets Training Camp
NY Jets Training Camp Day 2 Recap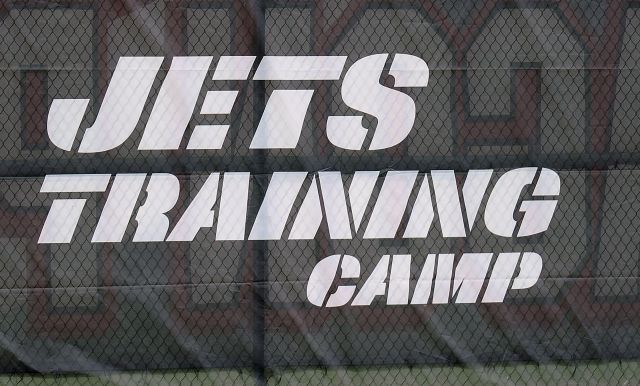 The Jets took the field again today at SUNY Cortland and this time practiced in the rain.  The conditions were bad but that didn't stop Mark Sanchez from standing out.  He took 16 snaps with the starters and was 6 of 8 when passing the ball.
LaRon Landry took the field today and Rex Ryan was impressed.
The first thing you look at is obviously the physical stature of him but you forget that the guy runs a 4.3 (forty yard dash time)
Rex added that he was impressed with the other projected starter at safety, Yeremiah Bell.
I mean when you see Yeremiah Bell, you see LaRon Landry, you added two Pro Bowl safeties to a pretty good defense. Albeit, with LaRon it's clearly about his health. If he stays healthy, we know what we have. That's a perennial Pro Bowl safety. Yeremiah Bell, I think, is one of the great moves in the offseason that I think was under the radar.
Aaron Maybin reportedly had two "sacks".  The team was not in full pads, so sacks are a bit misleading when there is no contact.  Regardless, it is an encouraging sign as the Jets are counting on Maybin to progress and improve upon his 6 sack season last year.
Jeremy Kerley is going to be out for a week or so with a hamstring injury.  Rex Ryan criticized Kerley, which is rare for the player-friendly coach.
Jeremy (Kerley) needs to step it up, because quite honestly, I was a little disappointed in Jeremy this offseason.  He's got to pick up this system, this new system.
On Sunday the Jets practice in full pads for the first time.  Here are some other notes from training camp:
Caleb Shlauderaff was praised by Rex, but offensive lineman can not be graded when the team is not in pads.
Jeff Otah still has not passed his physical and Rex Ryan says it is up to the trainers to determine when he will take it again.
DeMario Davis has a hamstring injury and will not practice in pads on Sunday.
Antonio Cromartie will reportedly work at WR a bit this training camp.
Nick Folk and Josh Brown were both perfect (4 \  4) with their field goal attempts.
Videos
Aaron Rodgers Injury Fallout & Jets/Bills Recap