Home Slider NY Jets Training Camp
NY Jets Training Camp Update 7/30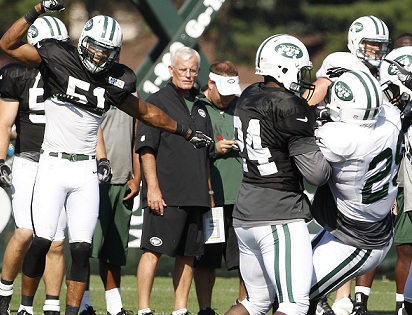 Here is an update on today's practice at Jets training camp:
After a rough go of it yesterday for quarterbacks Mark Sanchez and Tim Tebow the offense came back with an improved performance:
Mark Sanchez and Tim Tebow were each 1-for-7 in Sunday's practice …

But Sanchez and the first-team offense rebounded today, looking much better in the second straight padded practice. Sanchez finished 6-of-10 on 18 snaps in 11-on-11 team drills …

Tim Tebow finished 4-of-5 on 13 snaps with the second-team offense.
Source: Jenny Vrentas/Newark Star-Ledger
Unfortunately third string quarterback Greg McElroy didn't do as well:
Greg McElroy struggled commanding the third-team offense and was picked off by cornerback Isaiah Trufant.
Source: Jenny Vrentas/Newark Star-Ledger
Darrelle Revis was back at practice after hamstring tightness limited him yesterday.  He appeared to be fine after laying a hard hit on running back Bilal Powell:
[tweet_embed id=229931808949694464]
Even though Powell took a shot from Revis he had an impressive practice:
[tweet_embed id=229931671938551808]
[tweet_embed id=229922406876200960]
second-year back Bilal Powell really stood out Sunday. He looked quick and hit the holes hard. It has been assumed that Joe McKnight would fill the third-down running back role with LaDainian Tomlinson gone, but maybe Powell can move up the depth chart.
Source: Brian Costello/NY Post
Several members of the Jets have been removed from the physically-unable-to-perform (PUP) list and will be ready to practice fully on Friday:
[tweet_embed id=229940801537470464]
Wide receiver Jordan White, a punt returner in college, says he is ready to go with the special teams if needed:
White said he will step into whatever role the Jets need from him. He approached special teams coordinator Mike Westhoff Sunday to let him know he is ready to contribute on special teams, too.
Source: Jenny Vrentas/Newark Star-Ledger
Newly acquired Offensive Tackle Jeff Otah via trade did not practice again and will have to pass his physical tomorrow otherwise he'll be sent back to the Carolina Panthers.  Otah feels confident he will remain a Jet:
Otah has said he's not sure if he'll be able to pass by Tuesday's deadline, due to an ailing knee that has had fluid in it. But today, Otah was more optimistic.

"Yeah, I feel like I can pass it," Otah said, adding later: "I think it will go well."
Source: Jenny Vrentas/Newark Star-Ledger
Linebacker Ricky Sapp stood out in practice with some impact plays:
[tweet_embed id=229932919530086400]
It had been reported the Jets were interested at using cornerback Antonio Cromartie at wide receiver and he saw some plays at the receiver position:
They also debuted cornerback Antonio Cromartie in his first snap at receiver, a streaking route up the left sideline, but Sanchez did not target him.

"Cro was on an extra-special top-secret route that nobody knows except me and the rest of the offense," Sanchez said.
Source: Jenny Vrentas/Newark Star-Ledger
The field goal kicker competition led to perfection today:
Nick Folk was 4-for-4 on field goals today, with a long of 44 yards. Josh Brown was 2-for-2, with a long of 40 yards.
Source: Jenny Vrentas/Newark Star-Ledger
Videos
Aaron Rodgers Injury Fallout & Jets/Bills Recap