NY Jets To Retire #90 For Dennis Byrd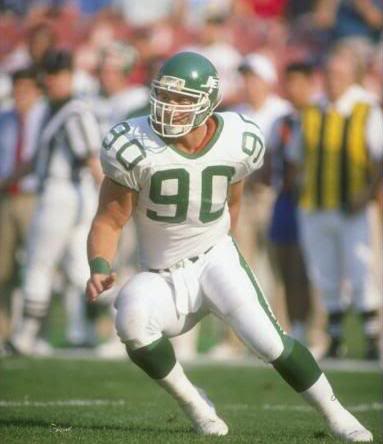 The NY Jets announced today that they will retire # 90 in honor of Jets great Dennis Byrd.
At halftime of the Jets-Dolphins game on October 28, the Jets will honor Dennis Byrd with the retirement of his No. 90 jersey.  Byrd, a defensive end, was selected by the Jets in the 1989 draft and recorded 27 sacks in his first three seasons, a number bettered by only two players in their first three seasons in Jets history.  Byrd's #90 jersey has not been worn since he suffered his career-ending injury and will be officially retired in this halftime ceremony.  The Jets-Dolphins game is being presented by Toyota.
Dennis Byrd was injured in his 4th season with the Jets.  He had 27 sacks in his young career and for those that never saw Dennis play, he had a motor that never stopped.  He played with heart, energy and the Jets are honoring a true Jets great by retiring # 90.
Byrd suffered a neck injury during an NFL game against the Kansas City Chiefs on November 29, 1992. During the play, he rushed in an attempt to sack Chiefs quarterback Dave Krieg, but Krieg stepped up to avoid the tackle, and Byrd collided with Jets teammate Scott Mersereau. He ducked his head at the last moment before he collided with Mersereau's chest.[1] The head-first collision resulted in a broken C-5 vertebra that left him unable to walk for the time being. Eventually, after extensive physical therapy, he would walk again but he couldn't go back to playing football.
You can read more about Dennis Byrd in our NY Jets forum.
Videos
Was Boomer Right to Blast Becton? Former Jets QB Sounds off Against Jets Tackle.