Jets 1st Depth Chart Of 2012 Is Unveiled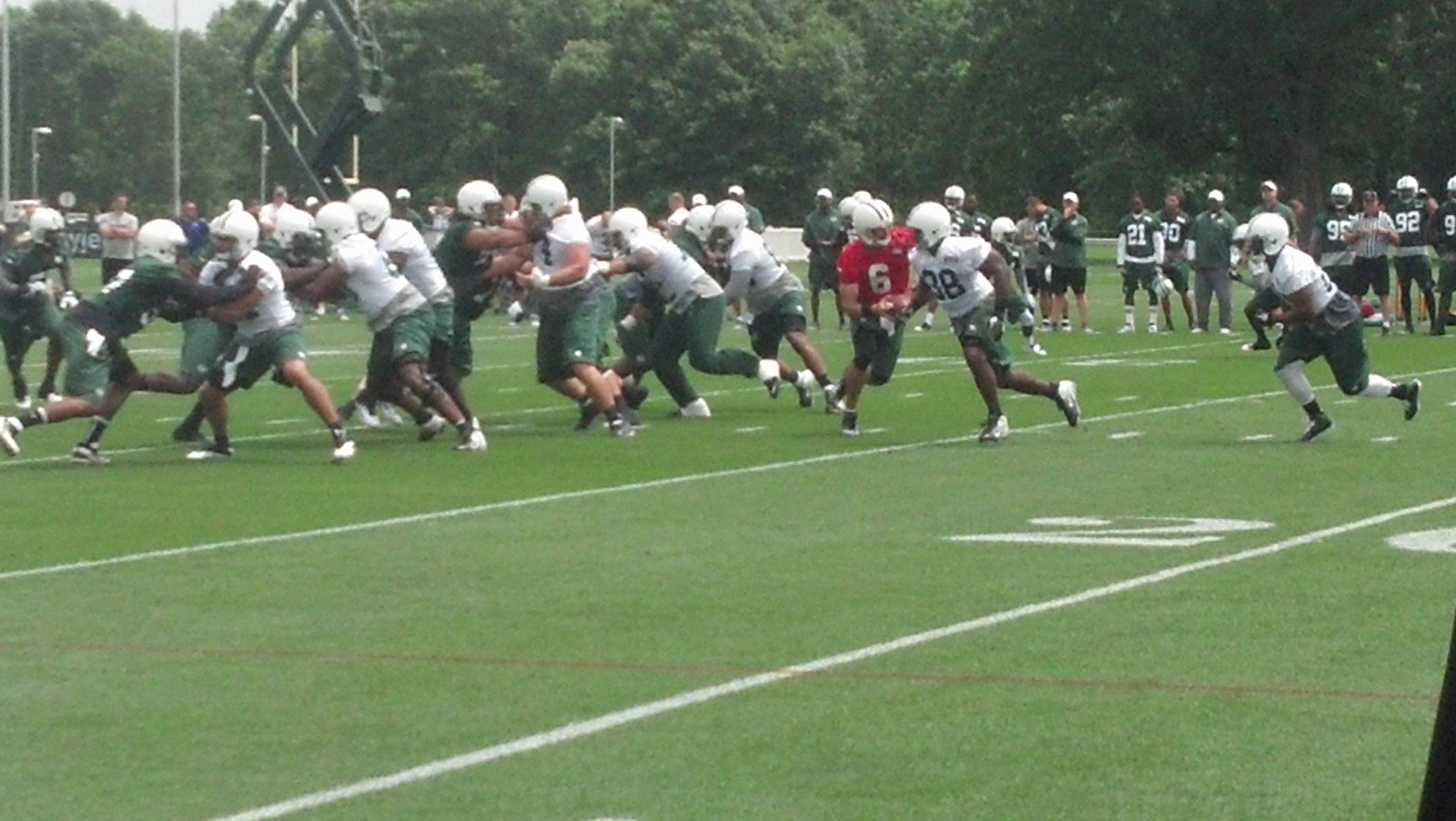 Today the Jets have unveiled their first depth chart of the season a few days before their game with the Cincinnati Bengals. Nothing surprising other than the 3rd safety position being added to the chart. Nick Folk is winning the kicking competition so far.
Offense
POS
First
Second
Third
Other
WR
Stephen Hill
Chaz Schilens
Dexter Jackson
Royce Pollard
Jordan White
Wes Kemp
LT
D'Brickashaw Ferguson
Dennis Landolt
Austin Howard
LG
Matt Slauson
Vladimir Ducasse
Fred Koloto
C
Nick Mangold
Caleb Schlauderaff
Matt Kroul
RG
Brandon Moore
Robert Griffin
Terrence Campbell
RT
Wayne Hunter
Stephon Heyer
Paul Cornick
TE
Dustin Keller
Jeff Cumberland
Josh Baker
Dedrick Epps
Hayden Smith
Tarren Lloyd
WR
Santonio Holmes
Jeremy Kerley
Patrick Turner
Eron Riley
Raymond Webber
QB
Mark Sanchez
Tim Tebow
Greg McElroy
Matt Simms
FB
John Conner
RB
Shonn Greene
Joe McKnight
Bilal Powell
John Griffin
Terrance Ganaway
Defense
POS
First
Second
Third
Other
DE
Muhammad Wilkerson
Quinton Coples
Jay Richardson
NT
Sione Pouha
Kenrick Ellis
Martin Tevaseu
Damon Harrison
DT
Mike DeVito
Marcus Dixon
Matt Hardison
OLB
Bryan Thomas
Garrett McIntyre
Brett Roy
Damario Ambrose
WLB
Bart Scott
Josh Mauga
Demario Davis
MLB
David Harris
Nick Bellore
Marcus Dowtin
OLB
Calvin Pace
Aaron Maybin
Ricky Sapp
CB
Darrelle Revis
Kyle Wilson
Julian Posey
Ryan Steed
CB
Antonio Cromartie
Ellis Lankster
Isaiah Trufant
Donnie Fletcher
Devon Torrence
S
LaRon Landry
Josh Bush
D'Anton Lynn
S
Yeremiah Bell
Antonio Allen
Marcus Lott
S
Eric Smith
Special Teams
POS
First
Second
Third
Other
K
Nick Folk
Josh Brown
P
T.J. Conley
Travis Baltz
H
T.J. Conley
Travis Baltz
PR
Jeremy Kerley
Kyle Wilson
Dexter Jackson
Joe McKnight
KR
Joe McKnight
John Griffin
Dexter Jackson
Royce Pollard
LS
Tanner Purdum
Derek Chard
For more information please visit our New York Jets forum.
Videos
Aaron Rodgers Injury Fallout & Jets/Bills Recap