Stephen Hill On The Camp Scuffle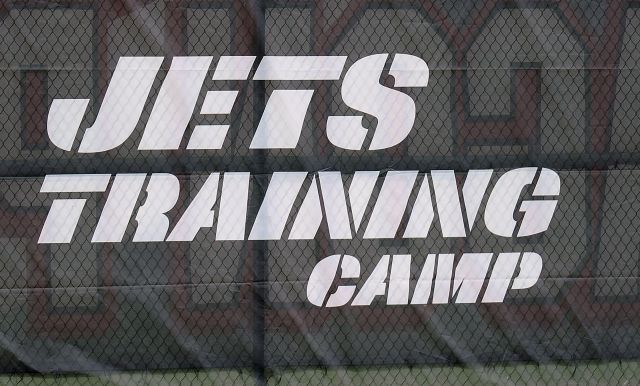 New York Jets WR was asked about the fights in practice and Rex Ryan's reaction to them.  Here is the brief Q&A session:
On practice being lively…
Definitely lively. Everyday is lively. We are just coming out here and making practice physical. The tussle was uncalled for but we came together and Rex Ryan got us in place.
On his on field relationship with  Antonio Cromartie.…
I'm not sure. If anything, we just go hard against each other. It's nothing bad, he's just really preparing me for the game.
On Rex Ryan's message at practice…
(It) was just to be careful. We're teammates and when we get out on the field we're going to be cheering each other on instead of battling each other. Other than that, we're making sure we're staying in place.
On wanting to play a different opponent…
Yes, we're ready to go. I guess you can say we're kind of tired of playing each other but we're still competing.
On his impression of Rex Ryan as a coach…
Coach (Ryan) is a good players coach. He's out here doing a great job, keeping us in line. We don't want to have (people) saying that we're undisciplined, because we're not undisciplined, we're just out here at camp. There's fires going up, and were just kind of tired of playing each other, but other than that we're in line.
On if he has ever run gassers…
Of course. Especially in middle school (laughs) and high school, so that's nothing new. Other than that, we're doing good.
On the team receiving a warning before gassers…
Yeah, that's correct. He (Coach Ryan) did, but like I said, with that fire going into the seven-on-seven and guys are trying to get that interception or even catch the ball, it get's really physical.
On whether or not Cromartie was yelling at him…
Oh no, he wasn't yelling at me. I'm not sure who he was yelling at, but other than that, him and whoever he was yelling at were just tussling the play before and by the time I got out there he was on the other side, so I guess it was fine.
Videos
Aaron Rodgers Injury Fallout & Jets/Bills Recap