Today was an important day as Metlife and Metlife Stadium gave back to the dedicated and the diehard fans of both the New York Jets and New York Giants.  As a symbol of thanks, and good luck, a bronzed Snoopy statue will be placed at the stadium for all to see while fans attend home games.
Jason Teitler, Managing Director and Brand Marketing at Burson-Marsteller for Metlife,  opened the ceremony by introducing MetLife and discussing the meaning behind the event and the unveiling of the 8 foot bronzed Snoopy statue. He pumped up the crowd by asking who everyone was cheering for at the MetLife Bowl this Saturday. Fans showed their appreciation by waving towels representing the colors of their favored team.
Beth Hirschhorn, the Chief Marketing Officer for Metlife, continued the ceremony by thanking the fans of both New York football teams, and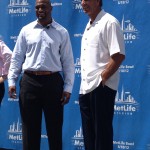 encouraged everyone to "high five" Snoopy as they walk into the stadium on game day. Hirschhorn then introduced two famed players of be past, the Giants former wide receiver Amani Toomer and Jets former quarterback Vinny Testaverde. Both players expressed that the team each one played for would win the MetLife bowl.  The statue of Snoopy was revealed and on full display. Fans were allowed  to take pictures with the former pros and give Snoopy a high five before it was hauled off to its permanent home at the West Gate of the stadium.
MetLife will donate $40,000 in the name of the winning team and MetLife will donate $10,000 in the name of the other team. Both teams will donate money to a charity they support.  The Giants support Kaboom, a charity that builds playgrounds for kids.  The Jets support The Trust for Public Land.  For more information you can log onto kaboom.org and tpl.org.
I have a feeling Snoopy will be receiving plenty of high fives for good luck as both the Jets & the Giants battle it out at their shared home.  But remember – technically it is a home game for the Green & White. So there's our one up! See you at the game Jet Nation!
You can also follow Metlife Central on Twitter and Facebook.