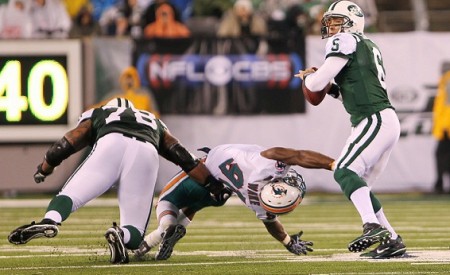 NY Jets fans have not been shy in expressing their disappointment with starting right tackle Wayne Hunter.  He is coming off a rough season and many thought he was going to be released in the off-season, myself included.  It seemed to make sense, he was the weakest link on the offensive line and the Jets had plenty of time to upgrade the position.  After ignoring it in the draft and free agency, it became clear that the Jets were serious about giving Hunter another shot this year.
Hunter made his preseason debut against the Giants and things got much worse.  The Jets offense has not scored a TD in either preseason game and Mark Sanchez has been under constant pressure with the starting offense on the field.  Jenny Vrentas looked at the sacks allowed against the Giants and added:
Hunter had a rough night against the Giants in Saturday's preseason game, playing a role in all three sacks of Mark Sanchez, and a fourth nullified by a phantom penalty.
Manish Mehta just wrote that Rex won't commit to either Wayne Hunter or backup Austin Howard.  The Jets have been praising Howard all off-season, so that is an indication that they could be scanning the waiver wire soon.
Rex Ryan didn't exactly give Wayne Hunter a vote of confidence when he danced around the question whether the maligned right tackle would be the Week 1 starter against the Bills on Sept. 9.

"I'm going to say this. We're committing to putting a good football team on the field," Ryan said on Monday morning. "Competition not just at the right tackle spot, but there's competition throughout… We're loaded in some spots and the competition is elevating peoples' play… But to sit back and say this guy's definitely the starter, I'm not ready to do that… I like to see guys compete and earn their jobs out there."

Ryan wouldn't even commit to Hunter or backup Austin Howard being the starting right tackle in three weeks.

"I'm not going to paint myself in a corner because things happen." Ryan said.
One move that would seem to make a lot of sense would be bringing in former Jet Kareem McKenzie.  After the performance against the Giants, there is no way that the Jets can start the season with Hunter at RT.  Look for Austin Howard to get 1st team snaps against the Panthers.  Depending on how that goes, Howard could get the starting nod or the Jets will be discussing McKenzie and other veteran free agents.