Home Slider Jets Report Card NY Jets Training Camp
New York Jets Week 2 Report Card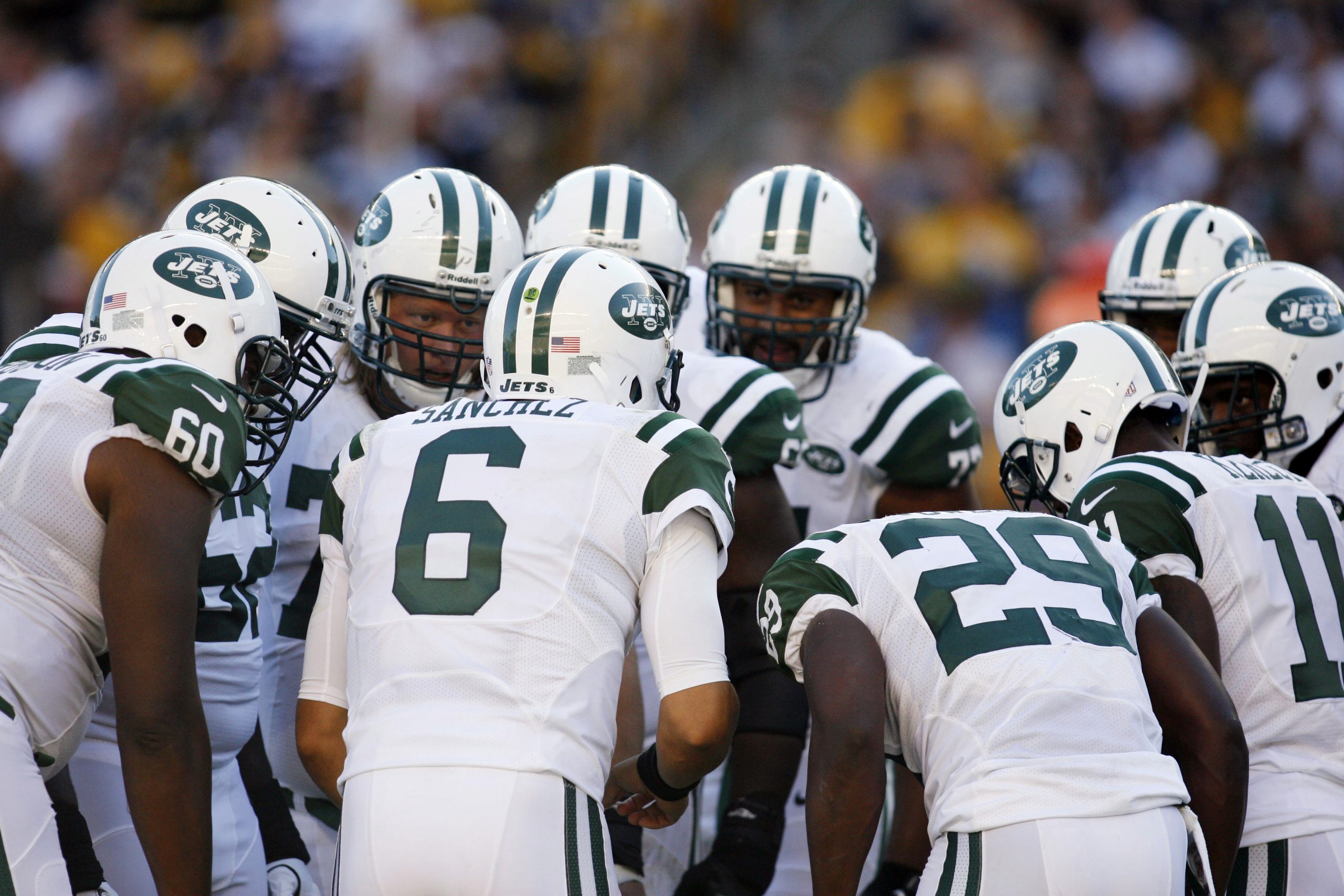 New York Jets Week 2 Report Card: Jets @ Steelers
Quarterbacks: F
Sanchez: 10/27, 138, 1 TD
Tebow: 1 rush , 22 yards
Sanchez marched the Jets down the field for a touchdown on their first possession. When was the last time that happened? This was a different kind of "terrible game" for Mark, as he did not cause a single turnover, but was still wildly ineffective – finishing 10/27 on the day. In fairness, his receivers did little to help him.. but with a 37% completion rating, he's due plenty of criticism.
Running Backs: C-
Powell: 9/33
Greene: 11/23
McKnight: 1/12
Their production on the day was sub-par, even against the Steelers. Powell filled in capably (if not impressively) for Greene, who suffered an injury in the early goings.
Wide Receivers/Tight Ends: D+
Kerley: 2/67/0
Holmes: 3/28/1
Reuland: 2/20/0
Cumberland: 2/13/0
Gates: 1/10/0
The physical play of the Steelers secondary took the Jets wide receivers and tight ends by surprise. Holmes was able to draw a few pass interference calls, but the group suffered from poor communication and a lack of toughness. After his explosive debut, rookie Stephen Hill was held without a catch.
Offensive Line: C
The Jets offensive line held their own against a tough group. There was obviously more pressure against Sanchez than we saw in week 1, but that is to be expected.
Defensive Line: B-
When you factor in the poor health of the Pittsburgh Steelers offensive line, and the fact that Pouha and DeVito rejoined this group for the first time, this performance was somewhat disappointing. They did a great job against the run, holding Pittsburgh to 66 net yards of rushing. However, with Revis out, this group needed to do a better job of closing on the quarterback. Pouha did post a sack.
Linebackers: B-
Once again, the front 7 did a great job of shutting down the running game, but they struggled to rush the passer. Garrett McIntyre did a wonderful job filling in for the injured Byran Thomas, as he put up 2 sacks.
Secondary: D
Big Ben had his way against this unit,  taking advantage of Revis' absence. This should serve as a reminder that Revis' effect on games, while "quiet" at times, is also quite momentous. With Revis' in the game, all facets of the defense improve: the team can picks its battles – either sending an additional rusher on every play, or giving more help to vulnerable members of the secondary. The Jets secondary struggled to get off the field on 3rd down all day.
Special Teams: D+
Folk hit a field goal from 38 yards out and punter Malone was adequate. Kerley fumbled on special teams – that was the only turnover of the game.
Coaching: D
The coaching staff faced a tough challenge: going into Pittsburgh (it's always rough playing there), against a Steelers team that was desperate to avoid going 0-2 and doing so without Revis, Keller or Byran Thomas. That said, the Steelers were missing several of their big guns as well and their offensive line was – supposedly – in shambles. Proper mid-game adjustments were not made on offense or defense.
Videos
Aaron Rodgers Injury Fallout & Jets/Bills Recap