Home Slider NY Jets Training Camp
New York Jets At Miami Dolphins – Week 3 Preview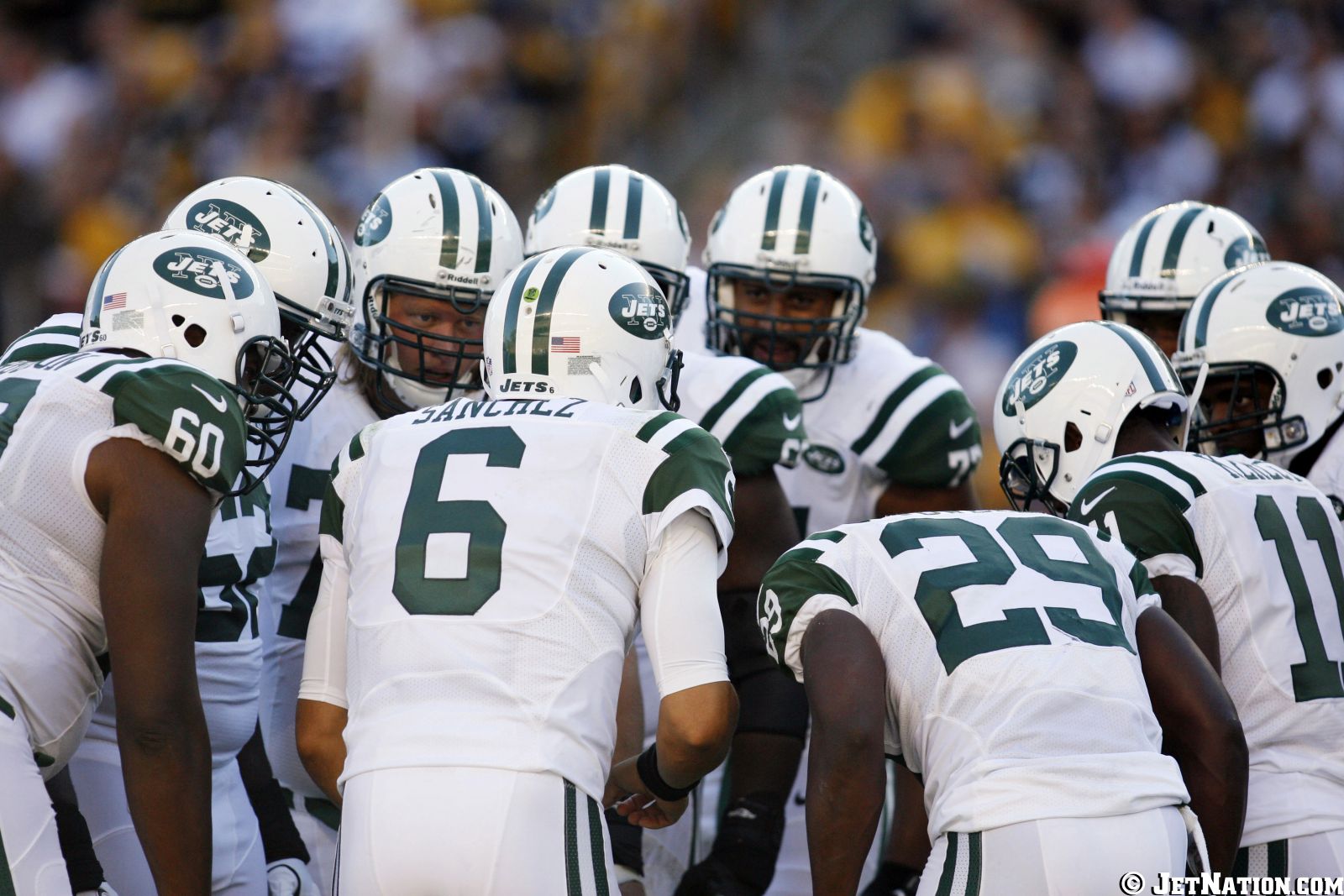 The last time the Jets went down to Miami, the infamous Santonio Holmes meltdown occurred. Holmes, visibly frustrated by the lackluster offensive effort, left the huddle after getting into a verbal confrontation with former Jets tackle Wayne Hunter. After that the rumors of Holmes quitting on his team and rumors of a circus locker room began.  The Jets have yet to get rid of that label to this day.
New year, new cast of characters. The Miami Dolphins have a new Head Coach Joe Philbin who has come to the Dolphins with the experience of leading a Green Bay Packers offense that led the league overall last season., and a new franchise quarterback in Ryan Tannehill. They are extremely young at the skill positions, but they have a solid veteran line, and a running back in Reggie Bush who's had two of his best games as a professional to start this season. Through two games, the defense is ranked 11th overall in the league and 5th and 4th in passing and running touchdowns allowed, respectively.
The New York Jets lead the all-time series 48-44-1. The Dolphins won the last game back in January, and the two teams have split the season series both of the past two seasons.
OFFENSE
Miami's offense is led by first year quarterback Ryan Tannehill. Tannehill is throwing the ball with a 57% completion percentage with 1 touchdown and 3 interceptions. Running the ball Reggie Bush is averaging 6 yards per carry and averaging 120 yards per game to start the season. He's a dual threat as he is second on the team in catches as well. Lamar Miller is the second running back who is averaging 6.5 yards per carry on only 10 carries.
The Jets defense is currently ranked 27th overall in rushing defense, but had a strong outing vs. the Steelers on Sunday, giving up only 66 total rushing yards. The Jets front 4 should keep the run game under wraps this Sunday. Having Sione Pouha back on that front made a huge difference stuffing the run last weekend. With Pouha, Kenrick Ellis, Muhammad Wilkerson, Mike Devito, Quinton Coples and Garrett McIntyre (in for the injured Bryan Thomas), the fronts will switch frequently and make running the ball very difficult for the Dolphins.
The wide receiver core is led by….Brian Hartline. Yes, that's right Brian Hartline is their leading receiver with 12 catches for 161 yards. He and Tannehill have developed a good chemistry where Tannehill knows where to find Hartline when he's being rushed. Hartline is Tannehill's check down receiver and seems to always know where he is. Their other two receivers are Legedu Naanee, who has yet to record a catch this season and Devone Bess who has caught 8 balls for 88 yards. With Revis now playing, the Dolphins are going to have a tough time throwing the ball against the Jets. Hartline is a guy they have to keep tabs on because he will be covered by a third corner like Kyle Wilson in passing situations. The defensive fronts will confuse Tannehill and give him looks that he hasn't seen yet in the NFL. Revis is a game changer and the Dolphins will have to adjust their offensive mindset now that he is playing.
Miami Offense vs. Jets Defense ADVANTAGE: Jets
DEFENSE
The Dolphins defense has allowed 21.5 points per game in their first two games this season. The defense is led by power pass rusher, Cameron Wake and DE Randy Starks (2 sacks in 2012). Jared Odrick is another pass rusher the Jets will have to look out for, especially when he's lined up as a 9 technique (outside shade of offense tackle to his side). His leverage and explosiveness off the ball may create problems for the Jets offensive line.
Since 2010, when the Dolphins signed him, Karlos Dansby has helped the Dolphins sure up their linebacking core, that includes Koa Misi and Kevin Burnett. Currently Misi and Dansby lead the Dolphins in tackles with 13 each. The secondary, with the trade of Vontae Davis to the Colts, has become weaker. Shaun Smith is their best corner and has had the daunting task of covering Andre Johnson and Darius Heyward-Bey the past two weeks. Their other corner is Richard Marshall, in his sixth year out of Fresno State. Chris Clemons and Reshad Jones round out the defense at safety. Both guys are good tacklers and run stuffers but have not been very good in pass coverage.
The Dolphins run defense has only given up 106 yards through two games and with the Jets running game virtually non-existent so far this year, it may be a difficult week for Shonn Greene and company. However, the Dolphins pass defense has given up over 300 yards per game. Sanchez will be asked early and often to set the tone throwing the ball. I think the amount of passing options Sanchez has gives the Jets the edge in this area of the game.
Miami Defense vs. Jets Offense ADVANTAGE: Jets
SPECIAL TEAMS
Marcus Thigpen and Davone Bess handle the kick return and punt return duties for Miami.
Their punter is Brandon Fields, who's averaging 50 yards per punt.
Their place kicker is Dan Carpenter, who has only attempted one field goal so far this year and hit it from 39 yards out.
Special Teams ADVANTAGE: Even
*All stats are courtesy of Pro Football Reference and NFL.com
Videos
Aaron Rodgers Injury Fallout & Jets/Bills Recap