Home Slider NY Jets Training Camp
Jets On Darrelle's Injury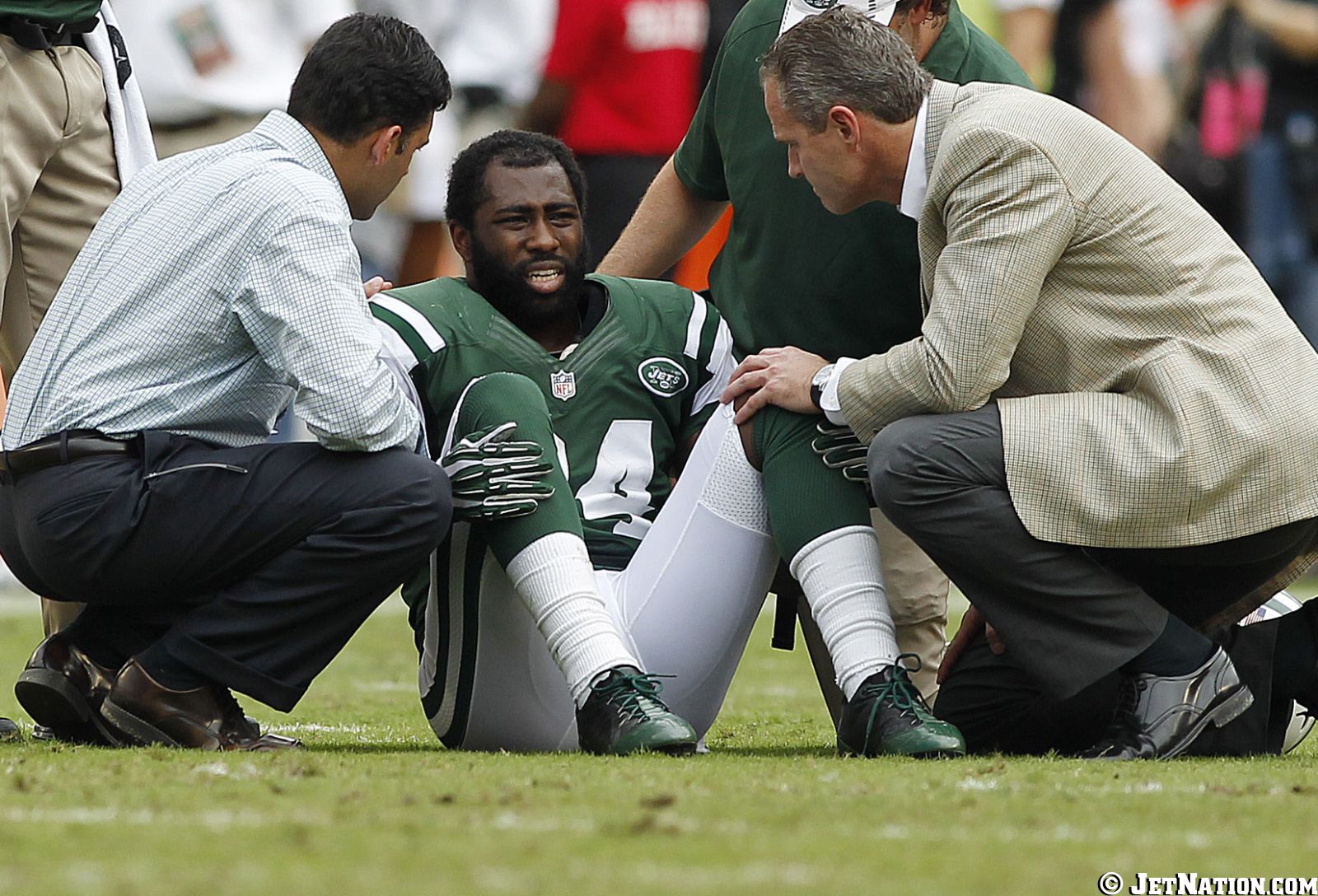 Several NY Jets were asked to comment on the season ending injury to Darrelle Revis.  Here is what they had to say:
Calvin Pace
On whether it's possible to replace Revis for the entire season…
No, I mean not with one person.  We're not going to ask Kyle (Wilson) to go out and be Darrelle, we're not going to ask Ellis (Lankster) to go out and be Darrelle. A number of people have to step up and try to affect the game in the same way he did. Obviously, it's not going to be in the same manner.  We have to find a way to regroup and we (have to) try to get better as a whole defensively, it hasn't been good enough.
On when he heard of Revis's injury…
I talked to him after the game, then I saw him this morning and he said it was pretty much over.  It's a sad moment, because to my knowledge, he's never missed a game, the guy has always been healthy.  For somebody (who is hurt), (and) I've been hurt before, rehabbing is harder than playing, because you're sitting out, watching the guys go out and practice, playing games, and you're trying to stay positive.  It's a tough situation, but everybody's here for him, we're going to try to keep his spirits up.  But again, we all have jobs to do on Sunday, so we just have to keep moving.
 Kyle Wilson
On if he feels added pressure to make up for the loss of Darrelle Revis…
No, I just feel like I'm going (to go) out there and I'm going to continue to do my job. Go out there, make plays and have fun. Just play my game, that's all I can do.
On if he will still seek out Revis as a mentor…
I'll still be communicating with him. I always pick that guy's brain. He's obviously pretty good. Our communication will still be the same, but overall, I just have to continue to do my job, go out there, have fun and make plays.
On if he is confident that the team can overcome the loss of Revis…
Our team, we can do anything we put or minds to. I like the team we have. We have good chemistry and everybody is looking to do something to help out.
Rex Ryan
On if there is hope that Revis could return by the end of the year…
Well, again, I just found out five minutes ago about the ACL. I want to sit down certainly and talk to Darrelle, and we'll do that first, before we decide if he's on IR, if he's not on IR. I want to talk to Darrelle. We've had seven players on our football team that have had this surgery before and are playing now. One of them is (Antonio) Cromartie. Cromartie had an ACL surgery. Certainly, it's a big disappointment, but again, I know the way Darrelle is. This is a guy that is as competitive as it gets, and I don't think there's any doubt he's going to come back strong from it. Again, like I said, before we ever do anything, I want to talk to Darrelle.
On his message to the team…
Everybody has to step up, and that's it. I remember one game my first year here, I believe we lost Leon Washington and Kris Jenkins in the same game. Those are two outstanding football players, maybe one of them regarded as our best, maybe offensive weapon and one of them is certainly one of the best defensive players in the league, in Kris Jenkins. The very next year, we lose Kris after three plays. We have a history of stepping up. I've also had some experiences where you lose some corners. In Baltimore, I think we lost three or four corners in one year. Obviously, that was tough. We just have to pick it up and maybe we play some opponents differently. There's different ways to skin a cat. You can't just obviously take away their best receiver with one guy, but again, we'll find a way.
On if the doctor told him about Revis' injury last night…
Again, Dr. Montgomery wanted to make sure he saw the MRI. He had a feeling it was a significant knee injury, but he did not say specifically that it was the ACL.
On if Revis' injury was a complete tear…
That's my understanding, that it's a tear.
On if his first priority is getting Revis fully recovered before he returns…
100 percent. No question.
On the recovery time for Revis and if there was any additional damage to his knee…
I don't know the specifics of the injury and things. I think the doctors will know a lot more after they perform the surgery. There are some things and maybe there's other things in there, maybe there's not. I saw Cromartie and he talked about his surgery. Every one of them, every injury, is different. Certainly we'll know a lot more after the surgery is performed.
On when Revis' surgery will take place…
It might be two to three weeks before his knee (surgery). They do it differently now. They don't just go in now. They try to get your knee healthier, then they perform the surgery.
On if he has seen Revis since last night…
No, I have not.
On how the defense will change without Revis…
Well, we're fortunate because most teams only have one number one corner, or some don't even have any.  We're fortunate, we have the best in the league in Darrelle, and we also have a number one corner in (Antonio) Cromartie, so we're fortunate there. We drafted Kyle Wilson to basically be a number two corner and that's the way he's going to play that role.  I'm confident in Kyle.  Then we have two young, tough players in Isaiah Trufant and Ellis Lankster that are going to have to step it up.
On Revis' mood when he talked to him on the flight…
It's just disappointing. This guy wants to win. When you think of Darrelle, as great a player as he is individually, this guy is a great teammate and wants to win. He wants his football team to win. I think that's why he was so excited about this year. We know we're a better football team than we were last year and we're committed, every man, every person in this building is committed to that. We see it going in that direction, yet, now we have that injury and he might not be able to help us on the field like he really wants to. Clearly, any time a guy goes through an injury, it's tough. There's no doubt. You could certainly see that on his face.
On if he had a moment of panic while reflecting on Revis' injury…
(It) never happens. Nope, (it) never happens. We have enough to get it done here. I remember coaching (in Baltimore), we had a once-in-a-lifetime player in Ray Lewis go down for 10 weeks once and Ed Reed followed it up by I think going down for five weeks one season. We had a lot of injuries, but you find a way to get it done. We're built, this football team, we have a bunch of competitors. We will find a way to get this done.
Videos
NY Jets OTA Recap; Robert Saleh Cancels Minicamp