Home Slider Jets Report Card NY Jets Training Camp
New York Jets Report Card: Week 4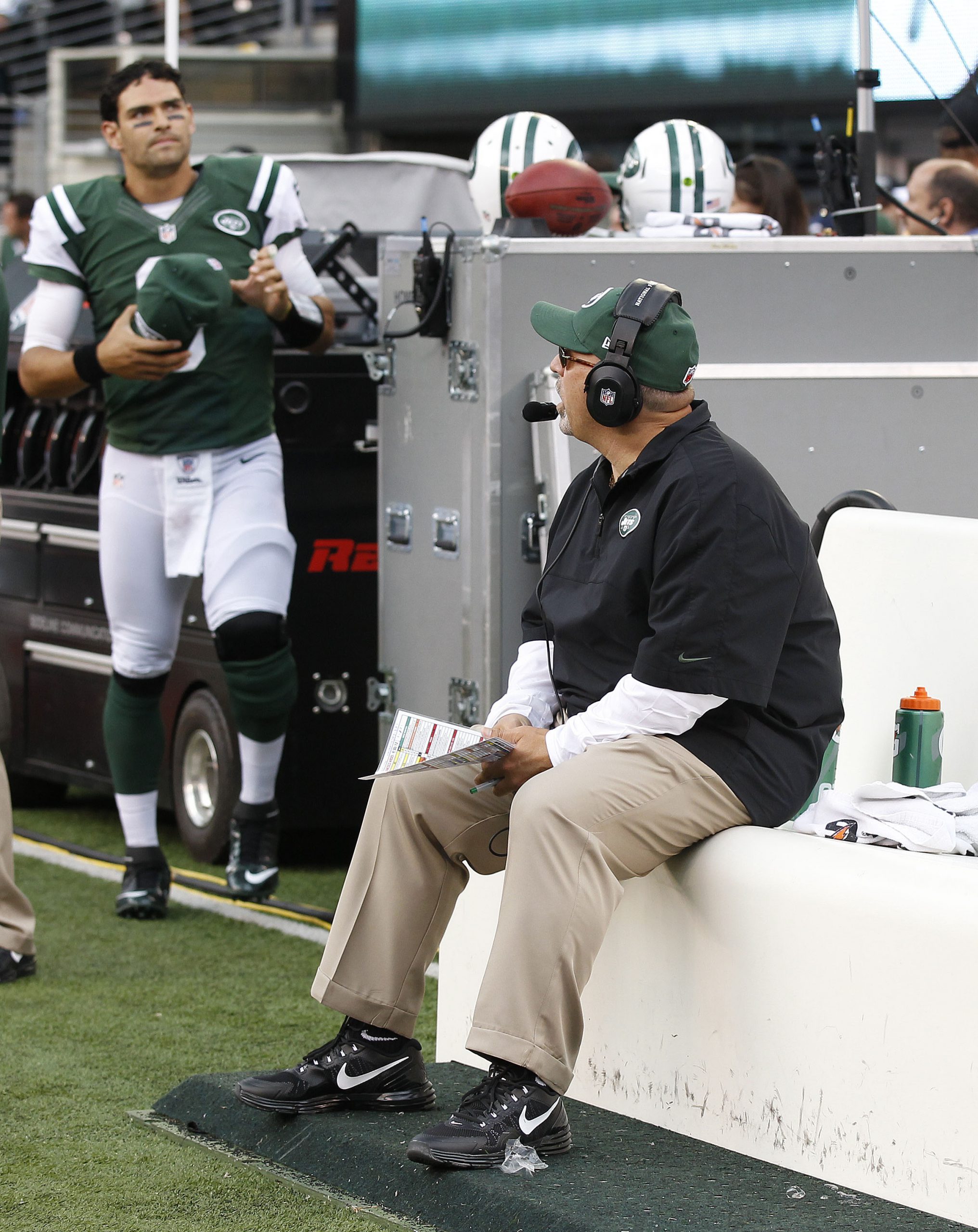 New York Jets Report Card: Week 4
San Francisco 49ers @ New York Jets
Quarterbacks: G
Sanchez: 13/29, 103 yards, 1 INT, 1 fumble
Tebow: 1/1, 9 yards
That's not a typo. True, I don't have official clearance from the powers-that-be at Jet Nation to issue such non-existent grades. But I've always been a renegade. Mark Sanchez already had an "F" halfway through the 3rd quarter and it only went downhill from there. He consistently throws to his 1st read, even when that receiver is in double coverage. When he doesn't, he eats the ball up and takes a sack. For the most part, he does not trust his arm. Even with his offensive line performing adequately, he looks shell shocked out there. This was his 3rd straight game with a sub 50% completion percentage. Sanchez is out of excuses, and he may soon be out the door as the Jets starting QB. Tebow completed his 1st pass of the season, but it was too high – leading to a turnover when TE Epps fumbled the ball.
Running Backs: F
Greene: 11/34/0
Powell:  4/11/0
They were able to find holes at times, even against a good defense. But this game proved once again that the Jets are no longer a "ground and pound" team. They're now a passing team – that cannot pass.
Wide Receivers/Tight Ends: F
Schilens: 3/45/0
Holmes: 4/29/0
Cumberland: 4/17/0
Kerley: 2/12/0
Epps: 1/9/0
Dropped passes. Poor effort. Enough is enough. To add injury to insult, Santonio Holmes may be done for the season.
Offensive Line: B
The San Francisco 49ers have a good pass rush, and they did manage to pile up some sacks. However, the pass protection was there and many of those sacks were simply coverage sacks. Once again, the line cannot pave the way on the ground – at least not for guys like Greene and Powell.
Defensive Line: B-
The pressure on the QB was not there, and the tackling wasn't great, either. However, the defensive line held tough on several occasions, and they did so despite being winded by the 49ers dominance in time of possession. 1st round pick Quinton Coples finally got involved , making a couple nice tackles behind the line of scrimmage.
Linebackers: C-
Here again, poor tackling. They did an awful job sniffing out the 49ers option offense. Calvin Pace did have a good game, making a nice play in coverage and tallying a sack. Bryan Thomas also notched a sack.
Secondary: B+
Before they were completely tired out by being on the field for the vast majority of the game, the secondary did a great job in the absence of Darelle Revis. Kyle Wilson got beat a few times, but by and large, the coverage was there from most of the secondary. I know that many will expect lower grades for the defense, but their performance wasn't nearly as bad as the score. Due to turnovers, 3 and outs, etc., the defense was constantly on the field – and often with poor field possession. That's not to mention that the offense surrendered 7 points of its own on an interception returned for a touchdown.
Special Teams: D
The special teams were adequate for the most part, but a blocked punt added to the carnage.
Coaching: F
This team was ill-prepared. No need to explain further
Videos
NY Jets Phase 3 OTAs, Expectations and a Minor Calf Tweak with Greg Renoff