Featured Editorials Home Slider Jet News
Sanchez And Tebow: Jets Are Painted Into A Corner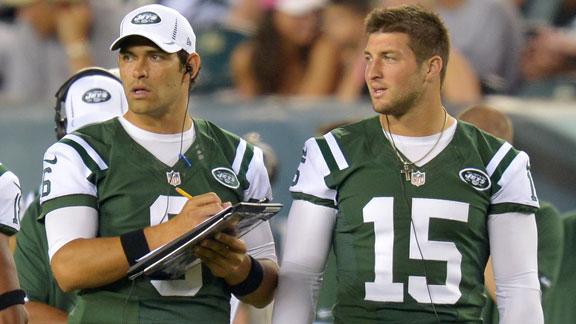 After a disappointing 2011 season which ended with three straight losses, the Santonio Holmes theatrics in the final game left a bad taste in all Jets fans mouths, especially after back-to-back AFC Championship appearances.
Quarterback Mark Sanchez led the Jets in his first two seasons, since being drafted in 2009, to those championship game appearances with an 11-5 regular season record in 2010.  Going into the 2011 season the Jets team was not as talented during Sanchez's first two years, so it was on Sanchez to take the next step and develop into the franchise quarterback the Jets traded up to draft 5th overall.
Unfortunately Sanchez's play seemed to remain inconsistent and his overall statistics did not necessarily instill confidence that he would develop as needed but given his past record most felt Sanchez had earned one more year to prove he could be "the man" moving forward.
Sanchez was heading into the fourth year of his five year rookie contract.  A vast majority of the salary remaining in his rookie deal was not guaranteed, especially the final year (2013) leaving the option open to release Sanchez if the organization felt that would be necessary.
After flirting with Peyton Manning for about 5 minutes the Jets decided to give Sanchez a contract extension guaranteeing his 2012 and 13 salary.  Thought this was a bad decision at the time as Sanchez did not deserve the vote of confidence given his 2011 season.  Some will argue the Jets needed salary cap relief and got it by giving Sanchez this contract.
The fact is the Jets saved $6.4 million on the 2012 salary cap but pushed lots of salary into future caps and made it impossible to release Sanchez, no matter how bad he was, in 2013.  The Jets are currently $5.9 million under the cap so even if they never changed Sanchez's contract given that Mike Tannenbaum is a "cap genius" he could have found enough space, because they didn't need $6.4 million, and would not have increased the 2013 cap-hit $4.35 million for Sanchez.
The Jets then trade for quarterback Tim Tebow trading recently signed backup Drew Stanton away to the Colts.  The theory was Tebow would be a change of pace quarterback and would push Sanchez since he was a potential threat to take Sanchez starting job.  Just wonder if Sanchez would be more motivated by possible being released after the season, receiving no additional money, or having a guaranteed salary with Tebow at his heels?
The Jets agreed to pick up $2.5 million of Tebow's salary which had been advanced by the Broncos along with his remaining base season salary.  Thus far Tebow hasn't done much and Sanchez is completing 49% of his passes, so it doesn't look like he is taking the next step.
Given the teams injuries, if Sanchez continues to play poorly, and even if Tebow gets a chance to start, what if the Jets end up with a top ten draft pick?  Do the Jets use their first round draft pick on a quarterback prospect?  If they do what happens with Sanchez/Tebow?
The assumption is the Jets draft a prospect who's a pro-style/drop-back quarterback, unlike Tebow.  The Jets might decide, like the Broncos did, that they do not want to risk building an offensive system around Tebow's strengths.  This is not whether Tebow can or can't succeed but the fact is he requires certain types of personnel, which has a different skill set then usual offenses, and a team will need to commit to build around him.
With five rookie quarterbacks starting this season the Jets could certainly draft a quarterback bring in a veteran and keep Greg McElroy but the Jets have painted themselves into a corner with the Sanchez contract and bringing in Tebow, if they take the draft a quarterback approach.
Tebow wants to start so if the Jets draft a quarterback Tebow would likely want out of New York, if someone can find a team who will trade for him just let me know, so you're looking at releasing him eating any remaining dead money from his contract.
Drafting a quarterback of the future ends Sanchez's career as a Jet, so the team's only option would be to try and trade him, don't look for much in return as this is a salary dump, and get another team to take on as much of Sanchez's 2013 guaranteed salary as possible but the Jets will still take a nice dead money cap hit no matter how much salary another team picks up.
The season is still young and things can change but the Jets decisions have not left them many easy options at quarterback.  It seems like it will take till the end of the year before the paint begins to dry and the Jets can move forward with the quarterback position, if the organization drafts a prospect.
Videos
New York Jets OTA Presser Takeaways, Aaron Rodgers' Impact and Summer Delusion