Featured Editorials Player interviews
Nick Mangold Twitter Chat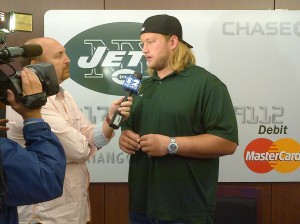 This past week, New York Jets center Nick Mangold took part in a twitter chat that was provided by Chase and MasterCard.  Nick Mangold started the day at the Lincoln Building Chase branch in Manhattan with Antrel Rolle from the NY Giants.  They took photos and signed autographs with the fans.
Then they moved on to the Twitter chat where fans asked questions of Nick by using the #AskMangold hashtag.  The chat was hosted by ChaseNews and Mastercard.  Nick Mangold must have answered over 100 questions, and in true Nick Mangold form he was politically correct with each answer.  It was fun though, even if his generic answers about having to block better and having to play better didn't provide a lot of insight.
You can read all of Nick's answers here and he did seem to take the questions about what his favorite things are pretty seriously.
Here is information on the Jets (and Giants) debit cards:
For no annual fee, New York Giants and New York Jets Debit cardholders will have special access to benefits, including:
15% off merchandise purchases made at the Team Flagship Store in MetLife Stadium and at the Jets Shop in Manhattan
15% off online purchases made at  www.ShopGiants.com and www.JetsShop.com
Cobranded card design that showcases the iconic logo and colors of the New York Giants or New York Jets
Chase checking account customers in New York, New Jersey or Connecticut can get a New York Giants or New York Jets Debit Card by visiting their local branch or calling Chase Customer Service at (800) 935-9935.  The New York Giants and New York Jets Debit Cards are exclusive with MasterCard.
About Chase
Chase is the U.S. consumer and commercial banking business of JPMorgan Chase & Co. [NYSE: JPM],   a leading global financial services firm with assets of $2.3 trillion and operations in more than 60 countries. Chase serves more than 50 million consumers    and small businesses through more than 5,500 bank branches, 17,500 ATMs, credit cards, mortgage offices, and online and mobile banking as well as through relationships with auto dealerships. More information about Chase is available at www.chase.com.
About MasterCard
MasterCard (NYSE: MA), www.mastercard.com, is a global payments and technology company. It operates the world's fastest payments processing network, connecting consumers, financial institutions, merchants, governments and businesses in more than 210 countries and territories. MasterCard's products and solutions make everyday commerce activities – such as shopping, traveling, running a business and managing finances – easier, more secure and more efficient for everyone. Follow us on Twitter @MasterCardNews, join the discussion on the Cashless Conversations Blog and subscribe for the latest news.
Videos
Aaron Rodgers Injury Fallout & Jets/Bills Recap