Home Slider Jet News Jets Report Card
New York Jets Week 5 Report Card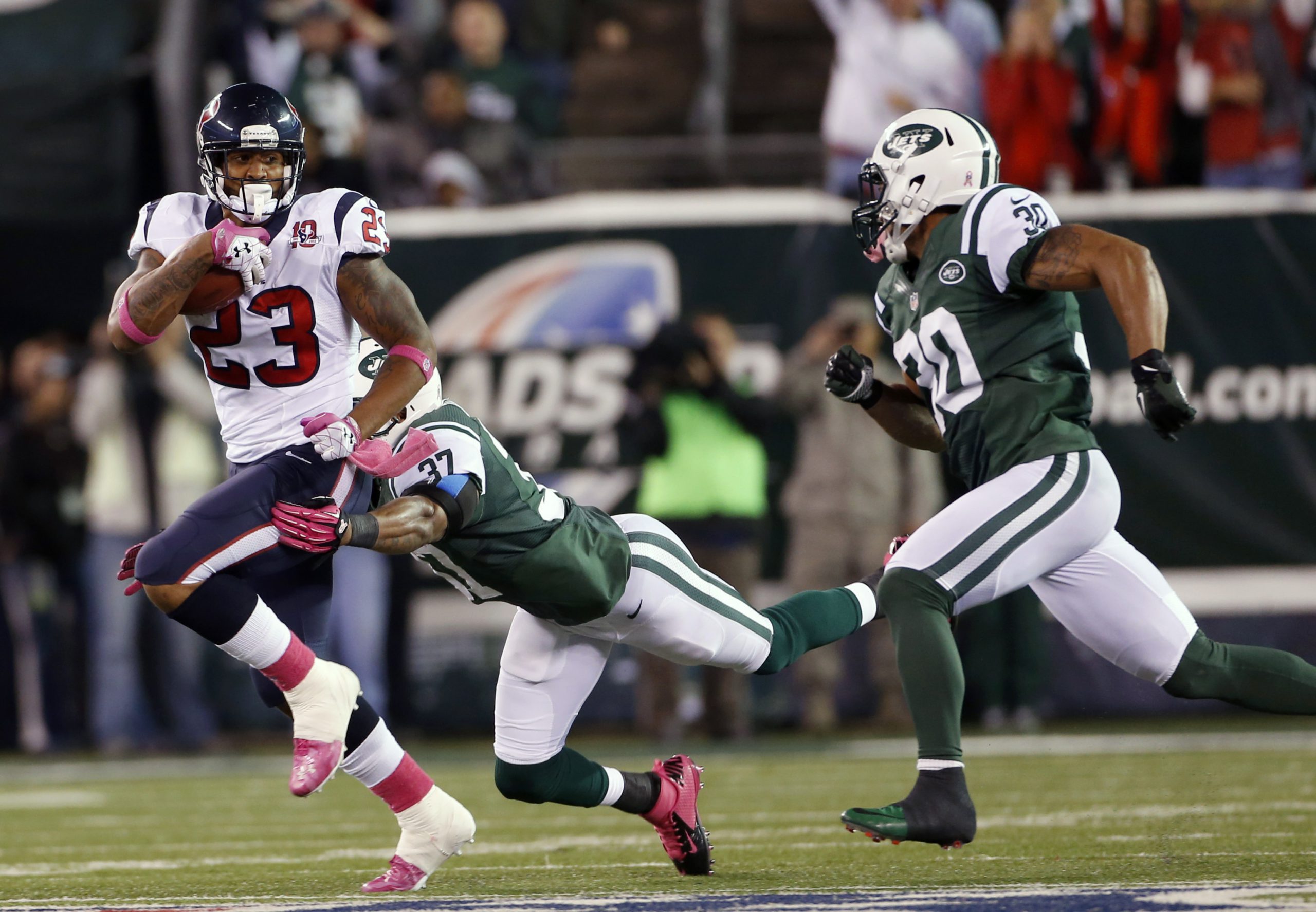 Week 5: Houston Texans @ NY Jets
Quarterbacks: D
Sanchez: 14/31, 230 yards, 1 TD, 2 INT
Sanchez look decent, at times. However, he made numerous mistakes –  including missing the mark on a crucial pass to Cromartie and getting numerous passes batted down at the line. In the end, he posted yet another game with a sub 50% completion percentage.
Running Backs: D+
Greene: 8/26
The running game is pretty much non-existent at this point.
Wide Receivers/Tight Ends: C
Kerley: 5/94/0
Cumberland: 2/51/1
Kerley and Cumberland both had solid games. The rest of the receiving corps looks totally out of the loop, displaying either poor communication with Sanchez, or an inability to make critical catches.
Offensive Line: C-
3 sacks allowed, and continued struggles on the ground. Still, let's not forget that this was a dominant pass rush they were facing. Fortunately, Mangold's injury does not look severe.
Defensive Line: D
Simple question: where is the pass rush? Where is the run-stuffing defensive line we were promised? Without Pouha (and with him, in previous games) it is nowhere to be found.
Linebackers: F
As bad as the defensive line has been in creating pressure on the quarterback and stopping the run, the linebackers have been that much worse. It continued tonight, with a woeful performance against Arian Foster.
Secondary: A-
In the absence of Revis, Cromartie stepped up – showing why he's actually a #1 corner in disguise. He did allow a touchdown, but he also grabbed a pick and shut down one of the best in the business: Andre Johnson. Wilson's name was called rarely, which is a good sign. On the negative side, they still need to improve at getting off the field on 3rd downs.
Special Teams: A+
Joe McKnight returned a kick 100 yards for a touchdown. Nick Folk was 1/1 on FG's. Punting was OK, at times. Tebow converted not one but two – count 'em: two fake punts.
Coaching: B+
Though they did have to burn a couple timeouts on offense due to confusion, and though they did get caught with a 12 man penalty on defense, the coaching staff did a great job in this game. They came into the game with a plan on offense, one that, with a smidgen of extra talent (or fewer injuries), probably would have done just fine. But with said injuries, with said limited talent, and playing against a dominant Texans pass rush, Tony Sparano pulled out all the stops. That included a bomb to Cromartie, amongst other wrinkles.
Videos
Aaron Rodgers Injury Fallout & Jets/Bills Recap