Featured Editorials Home Slider NY Jets Training Camp
The Simplest Answer at WR? Cromartie.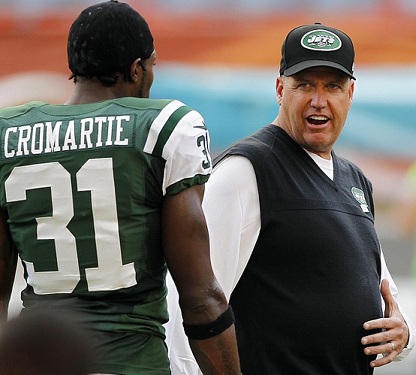 Question: who is Clyde Gates?
Answer: He's the Jets' fourth?…fifth?…sixth?…string wide receiver who left Monday night's game with a shoulder injury and didn't return.
In fact, Gates was so far down the list of options that he was nearly cut before injuries devastated the receiving corps. What? You mean you didn't know that about Clyde Gates? You didn't know anything about him at all?
If you hadn't heard of Clyde Gates before, that's not surprising. The Jet offense has been so shorthanded lately that losing Clyde Gates is a big blow.
Santonio Holmes – the only receiver on offense who has any kind of real track record – is out with a Lisfranc injury. Jeremy Kerley has looked solid so far, but beyond that, nobody has looked all that good this season (and nobody's been helped by Mark Sanchez, who has been average or worse lately).
Rookie WR Stephen Hill is extremely raw. It's too early to give up on him becoming a real threat, but he didn't catch a lot of passes at Georgia Tech. If he's going to develop, it's probably going to take some time. On top of that, he's currently out with a hamstring injury.
Speaking of hamstring injuries, Dustin Keller – one of Mediocre Mark's favorite targets and one of the only people on the roster who catches the football on a regular basis – has been out so long with a hamstring injury that he's beginning to show up on milk cartons. He missed most of the preseason and the last four weeks, after "playing" in Week 01, where he was a non-factor.
Considering that Nick Mangold came back into Monday's game after being carted off the field with an ankle injury, and Browns' safety TJ Ward played Sunday against the Giants after having screws put into his hand earlier that week, it's hard not to wonder what's happened to Keller. Did his hamstring snap and the Jets just haven't put him on the IR yet because there's a point .0000002% chance he might play in the Super Bowl?
Keller was supposed to be back two weeks ago, but ended up inactive. He'll supposedly be back for Sunday's game against the Indianapolis Colts, but let's not cancel the milk carton alerts just yet.
Tight end Jeff Cumberland has proven to be solidly ordinary so far – he had a great touchdown reception offset by causing the game killing interception on Monday – and Chaz Schilens is someone who seems like he could contribute if the Jets chose to throw to him more than twice a game. Jason Hill was added to the roster lately due to lack of depth and ability on offense, but he dropped possibly the best pass of Tim Tebow's career.
The team has shown no interest in Plaxico Burress (probably with good reason), Chad Ochocinco/Johnson/whatever his name is now, or Terrell Owens. Owens was begging the Jets on Twitter to give him a call, but so far it doesn't look like Owens will be joining the team.
But the Jets need receivers who can routinely hang on to the ball. Desperately.
There's a simple solution that nobody's really considered because it sounds ridiculous, but desperate times call for desperate measures.
Put in Antonio Cromartie at wide receiver.
Jeff Capellini wrote an article earlier this week after the game Monday night, saying this game might have been Cromartie's finest as a Jet. He held Andre Johnson, Houston's number one wideout, to one reception for 15 yards and had an interception. With the loss of Darrelle Revis for the season, Cromartie's become the guy who has to shut down the other team's star receivers. It's up to Cromartie to lead a defense that has had trouble stopping the run, which has lost its unquestioned leader-by-example and star.
But now, with Holmes down for the count and no sign that the front office is going to take any real measures to improve the sputtering offense, it's time to put Cromartie in both ways. When he lined up as a receiver with the offense against the Texans and took off down the field, he gained about two yards of separation on the defender. If the throw had been perfect, it was a touchdown, and if Cromartie was an experienced receiver, he probably would have been able to get both feet down in bounds.
Everyone laughed this offseason when Cro said he was the second best receiver on the Jets, but in a season on the edge of disaster where even an average offense is going to be the difference between bearable and embarrassing, give him a chance to prove it.
Vince Lombardi said, "Leaders are made, they are not born. They are made by hard effort, which is the price which all of us must pay to achieve any goal that is worthwhile."
One of the biggest criticisms of the Jets is that they lack leadership. By letting Cromartie put his money where his mouth is, not just on defense but on offense as well, he could be that guy.
Videos
NY Jets Phase 3 OTAs, Expectations and a Minor Calf Tweak with Greg Renoff