Home Slider Jet News Transactions
Terminator Waived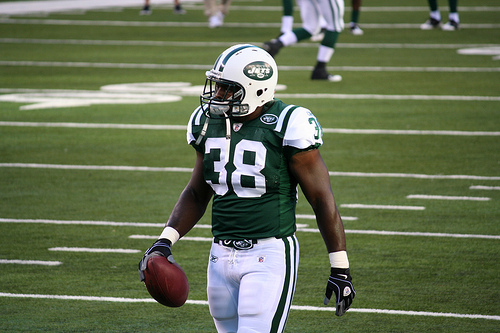 After struggling to make the team in 2012, the Jets have decided to end the experiment and waive fullback John "The Terminator" Conner.  He had made a name for himself in the 2010 edition of Hard Knocks. His knee and hamstring injuries also played a part as the team couldn't afford to keep him on the roster thanks to a bunch of other injuries  He had been replaced by fullback/running back Lex Hilliard who has filled the role well enough to make Conner expendable. The roster spot he was occupying has been filled by linebacker Marcus Dowtin who was on the team's practice squad.
Head Coach Rex Ryan has stated that Conner could be brought back but by rule he can't be signed until 6 weeks plus however many weeks he was paid for his injury settlement.  Conner has had 21 carries for 88 yards and 4 catches for 18 yards in two-plus years with the Jets.
In other news, the Jets have been looking at quarterback Kevin O'Connell who last played for the team in 2011. He visited the team on Tuesday and it sounds like the team could sign him even though the team already has three quarterbacks on the roster.
You can read more about this in our New York Jets message board.
Videos
JetNation
4.6K
Subscribe
Broken Brains; Critics of Jets Quarterback Aaron Rodgers Begin Stirring up Conspiracy Theories