Is This The Next Jets Left Guard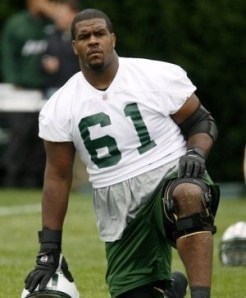 No Adrien Clarke is most likely not coming back to the Jets to play left guard like he did during the 2007 season but it looks like history might repeat itself.
The Jets acquired guard Pete Kendall before the 2004 season.  Kendall agreed to a pay reduction for the 2006 year with the understanding that he would get the money returned during the 2007 season if he played well in '06 but the Jets refused to renegotiate Kendall's salary.
With the Jets refusing to increase his salary the relationship with the team began to decline.  The Jets decided that it would be a good idea to put Kendall, a veteran, in with the rookies during training camp.  Kendall was eventually traded away to the Washington Redskins before the 2007 season started.
So instead of keeping their promise, then head coach Eric Mangini, a Bill Belichick disciple, thought it would be a good idea to get rid of the veteran Kendall and replace him with Adrien Clarke because, like Belichick thinks, you can replace a player with anyone.
Clarke had started 4 games with the Philadelphia Eagles in 2005 and ended up having a terrible season in 2007 eventually being benched.  The next offseason the Jets signed free agent guard Alan Faneca to at huge contract to make up for their mistake starting Clarke.
Well the Jets are on the verge of repeating a past mistake.  They are obviously grooming offensive lineman Vladimir Ducasse to be their starting left guard next season.  The Jets have been rotating Ducasse in for starter Matt Slauson about 10 plays per game.
Ducasse has been a major disappointment since being drafted 61st in 2010 but going into next season both Jets guards are heading towards free agency.  With the team having tight finances they are looking to fill potential holes from within but watching Ducasse often block air instead of the opponent isn't instilling confidence that he's not Clarke part II, penny wise pound foolish.
Seems like Mike Tannenbaum is determined to allow Ducasse, who went to Tannenbaum's alma matter (UMass), every opportunity to make it but don't know if Jets fans can watch Vlad chase after the guy he was supposed to block while he crushes our quarterback, just like with Clarke in 2007.
Videos
NY Jets Phase 3 OTAs, Expectations and a Minor Calf Tweak with Greg Renoff