Home Slider Jet News Player interviews
Mark Sanchez On Pete Carroll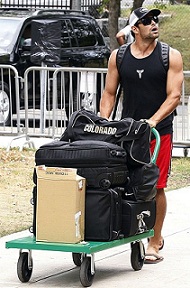 When Mark Sanchez made the decision to leave USC early and enter the NFL Draft, Pete Carroll didn't think Sanchez was ready.  Mark Sanchez was asked a few questions about Pete Carroll today.  With the Jets facing the Seahawks on Sunday, this would be a great time for Mark to prove Coach Carroll wrong.
On facing Coach Carroll…
I've never done it other than practice at USC so I know how competitive he is and how bad he wants to win every game. It has nothing to do with me, he just wants to win. So that's always good, facing somebody like that, it always brings out the best, hopefully, in both sides.  I'm thrilled about it.  I've been watching him from afar and rooting for him, obviously, but maybe not this week.
On when Coach Carroll commented on him not being ready to enter the NFL…
Well he was just honest about what he thought.  He wasn't going to just say something that I necessarily wanted to hear. He had a strong opinion and he felt like I should stay.  I had my own opinion about it and I had to make a decision for myself and live it out to be the right decision for me.  I have no regrets coming here and being part of this franchise and I also loved my time at USC.  I took that as a compliment that a great coach, college and pro, wanted me to stay on his team.
On if he's discussed his decision with Coach Carroll since then…
We've talked a little bit about, not necessarily belief in myself, but just talking back and forth. I know he watches all the guys he's coached before, whether it's (Troy) Polamalu, or Carson (Palmer), or Rey Maualuga, or Brian Cushing, any of those guys.  He's rooting for all of us, just like we're rooting for him because we had just a blast playing together. (He's) one of the most influential people in my life. I've learned so much from Coach Carroll and not just about football, but in life. He's one of the best, there's no doubt about it and I root for him all the time.  It's going to be fun to see him and I know they have something good going there and its really because of him.
On if he thought Coach Carroll's comments would have an impact on potential teams looking to draft him…
Not too much. There were plenty of doubters and stuff so I didn't think it was that big of a deal.  It obviously got a lot more media coverage than I thought.  He obviously just felt something, he said it, he said how he felt, and he had his own opinion about it just like millions of people – whether they thought I should stay or go, any of those draft experts.  It's just another opinion, and I respect it incredibly. But I also had to go with what I felt was right for me and he respected that too. It really took on a life of its own and it wasn't really personal it was just his opinion on the matter.
On whether he wanted to prove to Coach Carroll that he made the right decision…
I felt it was the right decision no matter what, no matter what anybody said.  When you make a decision like that, there's no turning back. I think the most important thing I heard during that process is I have to live it out to be the right decision for me, no matter what. He wasn't the only one saying don't go. There were plenty of people, my parents included.  They didn't want to see me leave home and that's just the way it is.  So it didn't really affect me.
Videos
Aaron Rodgers Injury Fallout & Jets/Bills Recap