Featured Editorials Home Slider
Seattle Seahawks to Watch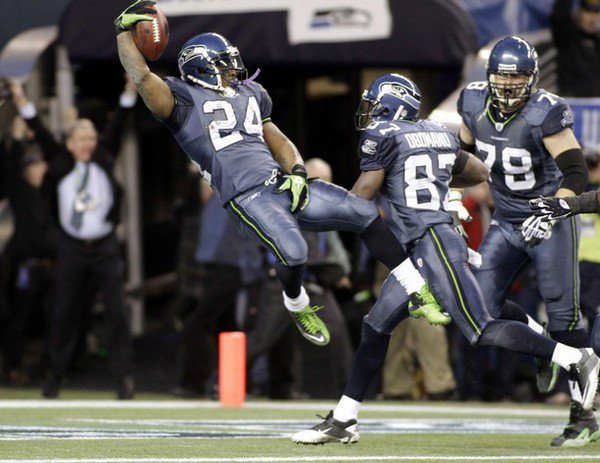 As the Jets prepare to take on the Seattle Seahawks, here are a few players to watch.
1. #24 RB Marshawn Lynch– Lynch has always been a "Jets Killer" from the days he was a Buffalo Bill. This year Lynch has ammassed 881 total rushing yards, 2nd best in the NFL. He's averaging nearly 5 yards per carry with a long of 77. There's no hiding the Jets struggles against the run this year. Lynch is the best back the Jets have faced so far this year…and yes, that includes Arian Foster. Lynch is a powerful runner who can run between the tackles, but also bounce it outside for big gains. He is also a very dangerous back out of the backfield on passes. He only has 13 receptions however, he's averaging over 8 yards per reception. With the Jets inability to get the defense off the field on 3rd down situations, Lynch could make this a nightmare for them.
2. #91 DE Chris Clemons– Clemons is a huge physical defensive end. He has 7 sacks this season. He will be lined up across from Austin Howard, who has been struggling the past few weeks. The entire Seahawks defensive line has accounted for 20.5 of the 25 total sacks for their defense and Clemons leads them in that department. Sanchez could face an immense amount of pressure this week. Head Coach Pete Carroll and defensive coordinator Gus Bradley have a very creative and deceiving blitz package that can cause communication problems for the Jets up front.
3. #3 QB Russell Wilson– As a rookie, Wilson is having a tremendous season. He's completing 62% of his passes, and has thrown for 13 touchdowns and 8 interceptions. However, he is most dangerous when he rolls out of the pocket. A running QB in college, Wilson will take off and run in pivotal spots, especially on important 3rd down situations. He's not tall in stature but he's built like a running back and is tough to bring down. He doesn't always run when he gets out of the pocket though. His eyes are always downfield. In fact, he's second in the league at taking a shot deep down the field in the NFL. With deep threats like Sydney Rice, Braylon Edwards and Golden Tate ,it's easy for him to take a chance, throw it up there and hope one of these guys comes down with it. He's a very big threat to this defense and can cause fits for Rex Ryan and Mike Pettine
4. "12th Man"– There are a lot of players to watch in this game, but the crowd could have a very big impact on the results. The crowd in Seattle is borderline chaotic. They are extremely loud, to the point where Tom Brady felt that they added additional noise through the speakers to make it tough for him to call checks at the line of scrimmage. The Jets will have to go with many silent counts, otherwise there will be a lot of false starts. The combination of the bowl-like design of Century Link Field and the fanatics, life could be tough for the Jets offense, as if it wasn't already without the noise.
For more information on this game, be sure to check out our New York Jets game preview.
Videos
Aaron Rodgers Injury Fallout & Jets/Bills Recap