Featured Editorials Home Slider
NY Jets Report Card: Week 11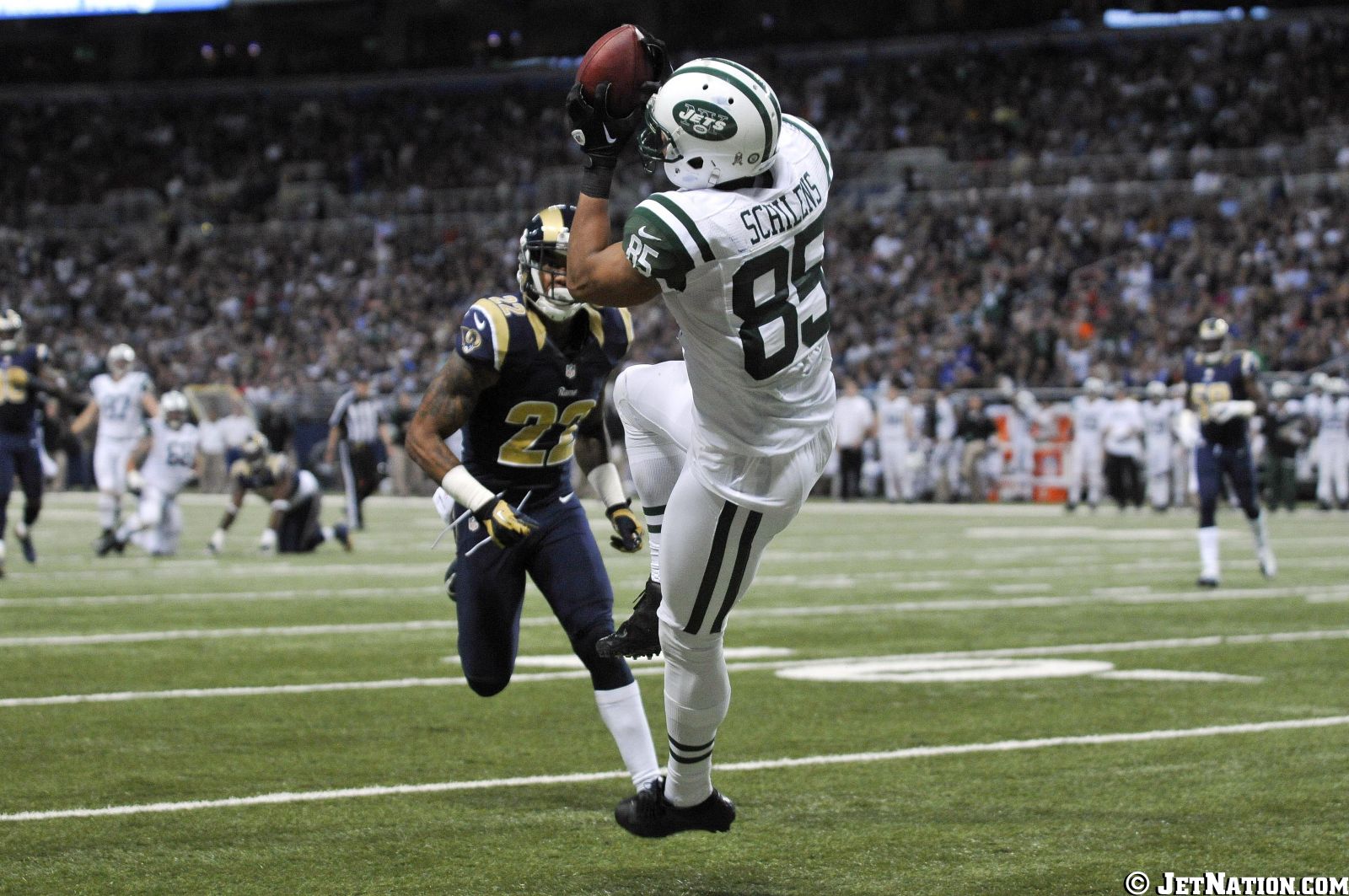 Week 11: New York Jets @ St. Louis Rams
Quarterback: B+
Sanchez: 15/20, 178 yards, 1 TD, 0 INT
It was one of Mark's best games this season, but that isn't saying much. The important detail: he avoided making any costly mistakes, and showed improved accuracy.
Running Backs: B+
Greene: 18/64/0
Powell: 11/42/2, 2 receptions for 18 yards
McKnight: 4/14/0, 1 reception for 18 yards
The carries were well divided between Greene, Powell and McKnight. Powell posted the first 2 touchdowns of his career. McKnight contributed a spectacular sideline catch.
Offensive Line: D
The Jets pass protection needs to improve dramatically. It's not as if they're paving the way on the ground, either.
Wide Receivers/Tight Ends: C+
Schilens: 4/48/1
Kerley: 3/43/0
Reuland: 1/18/0
Keller: 2/16/0
Gates: 1/10/0
A nice day for Schilens. Kerley was effective. Hill is invisible. Curiously, Keller is proving himself expendable.
Defensive Line: B+
What a day for Mo Wilkerson, he's beginning to justify his draft position. The pressure on the quarterback is there, but the line needs to start sealing the deal.
Linebackers: C-
The linebackers were slow and ineffectual, but what else is new? The addition of DeMario Davis has helped add some speed to this unit, but he's not the long term solution.
Secondary: A
Aside from the opening drive and garbage time, Rams QB Sam Bradford looked lost against a secondary that has held up surprisingly well in the absence of all-world CB Darelle Revis.
Special Teams: D+
Nick Folk connected on two 51 yard field goals, yet the special teams lapses continued with another blocked field goal, a failed fake punt and coverage breakdowns.
Coaching: A-
After surrendering a touchdown to the Rams on their first drive, the Jets successfully adjusted on defense. You would like to see a more creative offensive game-plan, but if it works, it works. As for special teams, well, has someone kidnapped legendary special teams coach Mike Westhoff and replaced him with an incompetent look-alike?
Videos
NY Jets Phase 3 OTAs, Expectations and a Minor Calf Tweak with Greg Renoff