Featured Editorials Home Slider
New England Patriots To Watch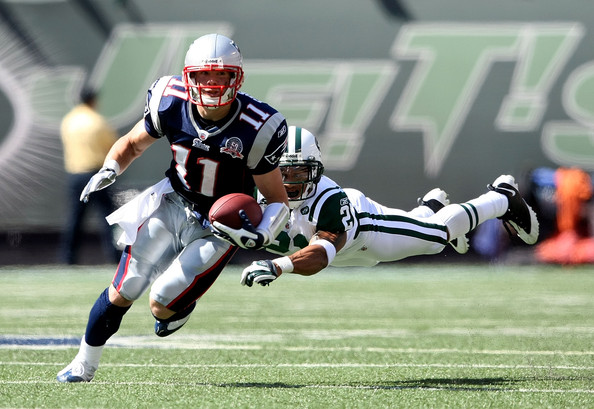 All preview articles will tell you the "Players to Watch" are Tom Brady, Wes Welker, Vince Wilfork and all the big name players. What we at JetNation are doing this week is showing you 3 players which will have an impact in the game that aren't the big name stars, but rather players who can change the game one way or another for the Patriots. Here they are:
1. #11 Julian Edelman– Edelman was the favorite target of Brady this past weekend against the Colts. He had 5 catches for 58 yards and a touchdown to go along with a punt return touchdown as well. He is a Wes Welker clone who can get open and make things happen after the catch. In addition to the threat against the Jets defense, he is dangerous in the return game and the Jets haven't lived up to their "best special teams in the league" title that they've had for the past several years. With Gronkowski out, the Jets will key more on Wes Welker, Brandon Lloyd and Aaron Hernandez, leaving guys like Ellis Lankster on Edelman. Regardless of how well Lankster played last week against the Rams Edelman vs. Lankster is "Advantage: Patriots."
2. #50 Rob Ninkovich– Ninkovich is a perennial thorn in the Jets side. He has had key interceptions in the past, sacks, and forced fumbles that have led to many heartbreaking defeats for the Jets. He has 39 tackles this season and 6 sacks. He's also forced 5 fumbles. No matter where they line Ninkovich up, whether at defensive end, or linebacker he makes plays and he is an immediate threat to the Jets offense. They have to be able to slow him down in order to be successful this game.
3. #31 Aqib Talib– Talib was signed a few weeks back from the Tampa Bay Buccaneers. The Bucs released him after he was suspended for violating the league's drug policy. The NFL reinstated him right before this past weekend's matchup against the Colts. He had an immediate impact returning an interception 59 yards for a touchdown. He is a very underrated corner in this league. At 6'1″ 205 lbs, Talib is bigger than most people think and has very good hips in coverage. He will help a depleted and subpar defensive backfield tremendously and may be a player who can impact this game in many ways. The Jets need to keep him in mind in the passing game, because he can change the outcome of a game with one break on the football.
Videos
New York Jets OTA Presser Takeaways, Aaron Rodgers' Impact and Summer Delusion