Featured Editorials Home Slider
Fireman Ed Won't Lead J E T S Chant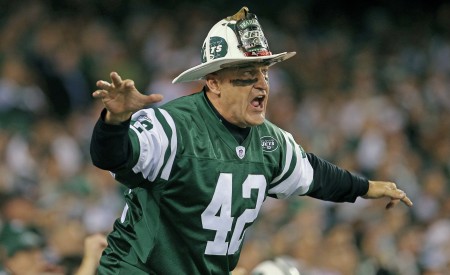 According to Kristian Dyer at Metro NY, Fireman Ed will no longer be leading the J E T S chant.  In a guest post Fireman Ed said:
On Thanksgiving night, I left the Jets game before halftime. This was the second time in a row I left before there were four zeroes on the clock. We have had much worse teams than this and I never left before. I pride myself in that, because I am not a quitter.

I decided to leave Thursday because the confrontations with other Jets fans have become more common, even though most Jets fans are fantastic.

This is an indication of how society has lost and is continuing to lose respect for one another. The stadium has become divided because of the quarterback controversy as well. The fact that I chose to wear a Mark Sanchez jersey this year and that fans think I am on the payroll — which is an outright lie — have made these confrontations more frequent. Whether it's in the stands, the bathroom or the parking lot, these confrontations are happening on a consistent basis.
In the full guest post Ed goes on to say that he will still go to the games, but he is going to sit somewhere else and simply won't lead the J E T S chant.  It is unfortunate, I have seen Ed give a lot of his time to pose with fans for pictures, talk to kids and I have always been appreciative of his energy and passion for the team.  It is well documented that Ed didn't create the chant, but I have been a season ticket holder since 1988 and he has done an excellent job getting the stadium loud.
This should serve as a reminder that even though we have different opinions, we all want the same thing.  So whether you support Sanchez, Tebow or McElroy just remember respect should be at the top of the list.  A Jets championship is the goal.
What a PR nightmare for the Jets.  They are dealing with the fallout from the locker room "anonymous sources" story, the performance on the field has been terrible and they don't need anymore distractions.  It will be interesting to see what the Jets do on Sunday 12/2 against the Arizona Cardinals.  Any volunteers to lead the chant?
Ed, you will be missed.
Follow Jets beat writer Kristian Dyer on Twitter @KristianRDyer.
Videos
Aaron Rodgers Injury Fallout & Jets/Bills Recap