A Closer Look At QB Greg McElroy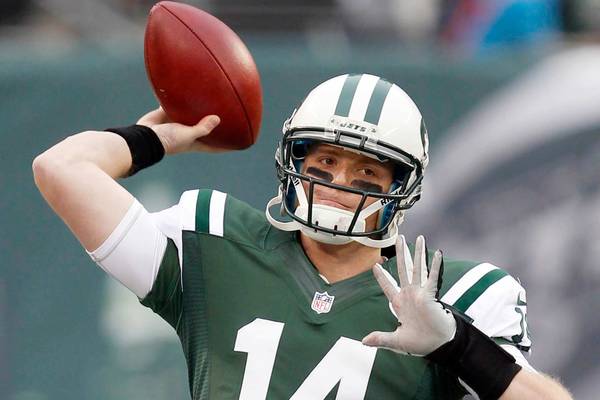 After an ineffective Mark Sanchez threw a poor third down and short pass this Sunday against the Arizona Cardinals, Rex Ryan decided to make a change at the quarterback position. It wasn't the guy that many fans thought it would be in Tim Tebow, but rather Greg McElroy. McElroy was a 7th round pick of the Jets in the 2011 NFL Draft, a pick that was acquired when the Jets traded Kerry Rhodes to the Cardinals, ironically. He came into the game yesterday down 3-0 and led the Jets to a TD scoring drive which was a 1 yard pass to TE Jeff Cumberland and ultimately led the Jets to the 7-6 victory. Here's a little about McElroy for fans to get to know the guy who could supplant Sanchez and Tebow as the new Jets quarterback.
McElroy played college football at the University of Alabama under coach Nick Saban. McElroy saw limited time in his freshman and sophomore year backing up John Parker Wilson. McElroy started his junior year and in his first year as the starter led the Crimson Tide to an SEC Championship against the Florida Gators. He was the MVP of that game, going 12-18 for 239 yards. The team continued their run into the BCS National Championship game against Texas where they won 37-21 behind a great game by Cleveland Browns RB Trent Richardson. McElroy didn't play a great game, but later revealed he had cracked ribs (another irony) that he sustained in the SEC Championship game which led the Crimson Tide to run the ball more often in the National Championship game.
As a senior McElroy led Alabama to a 10-3 record and a win in the Capitol One Bowl against Michigan State. McElroy holds the records at Alabama for most passing yards in a season as well as touchdown passes in a season. He also holds the records for highest percentage of passes completed in a game(12-13) and consecutive completions (12).
McElroy, when declaring his eligibility for the NFL Draft was critiqued hard and evaluated by every scout imaginable. Here are some of the things that were said about him prior to the draft in 2011, courtesy of NFL Draft 101:
STRENGTHS
•Has a nice short game, great fit for a West Coast offense
•Makes good decisions with the ball (Career 39 TD to 10 INT ratio at Alabama).
•Solid mechanics
•Tough, played in the National Championship Game with 2 cracked ribs
•Has great intangibles: intelligent, personable, strong character and a leader
•Smart, graduated with a 3.85 GPA
•Elevated his stock with a strong week at the Senior Bowl
WEAKNESSES
•Arm strength is average at best – struggles going deep or outside the hashes
•Played in a run-first offense, didn't have to carry his team
•Limited athlete – Not a threat to run
•Footwork needs to improve
•Lacks great measureables but has the makeup of a backup QB
Talking about the weaknesses, McElroy has shown a tremendous work ethic since he has been drafted. It is often said in the social media that he is the first guy in the building and last guy out, something a quarterback should do. He has made strides in his arm strength, grip strength, and has taken his lifting program very seriously. His speed is average but his improved footwork helps him get out of danger, avoid the rush and still keep his eyes down the field. His mechanics are virtually flawless. He has a nice easy throwing motion and now with his improved arm strength he can make all the throws. His drop backs are very consistent (although there was only a small sample of 7 passes) and unlike, the previous starter, his eyes remained down the field rather than on the incoming pass rush.
McElroy is also an excellent game manager. No quarterback wants to be labeled strictly as a "game manager" but the Jets offensive philosophy is very similar to that of Alabama when McElroy was there. They were a run first team that asked him to take care of the football and get key 3rd down conversions. There's no doubt he can do the same for the Jets going down the stretch.
Rex has stated that he will make a decision by the end of Tuesday, but won't tell the media until Wednesday. It's obvious that McElroy's intangibles, his smarts, and the way the team rallied around him this past weekend are weighing on Rex Ryan right now. Although Jet fans have only seen a small bit of what he can do, they hope to see more out of the former National Champion in the last 4 games.
Videos
Aaron Rodgers Injury Fallout & Jets/Bills Recap