Q & A With Jets LB Demario Davis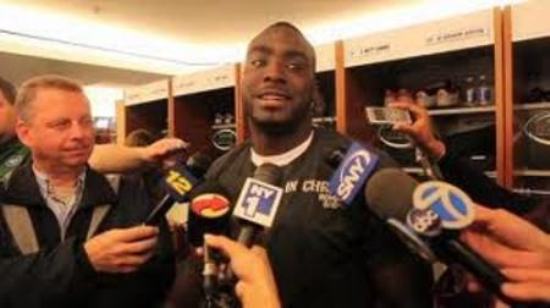 Had an opportunity to ask Jets rookie linebacker Demario Davis some questions about the current state of the team and his experiences during his rookie season:
Q:  Mark Sanchez was removed from Sunday's game against the Cardinals and replaced with Greg McElroy who led the team to a win.  Could you give us your thoughts along with the pulse of the locker room right now given the uncertainty at quarterback?
DD:  We were just fortunate to get the win last week.  I think the locker room is unchanged, we've got to prepare this week like every other week.  My thought on it is the defense just has to prepare like we've always prepare, me being a defensive guy we go as planned nothing is changing with us.  No matter who's the quarterback we have to go out and put on a show like we did last week.  I mean the defense played phenomenal and that's what we're going to try and do, keep up our play.
Whoever goes in the game at quarterback, which is the coaches decision, I know he is going to put whoever he feels is going to gives us the best chance to win in the game.  Whoever the quarterback, I think everyone has to be ready to go out and perform.
Q:  With this being your rookie season can you describe the transition from your playing days at Arkansas State to the NFL level?
DD:  It's a humongous transition, it doesn't feel as much of a transition as it really is, but as go deeper and deeper into the season you just realize how critical every little aspect is.  Whether it is from the aspect off the field, whether it is keeping up with your body, watching film, getting things down to the details in practice, taking notes, just week-in-week-out doing the same things over and over.  You're trying to learn as much as possible and you're trying to build a routine at the same time, which is very tough.  So you kind of don't know what to expect week-in and week-out you just have to try and grab and learn.
The length of the season being a rookie coming out of college playing year long, you never really get any off time cause you go right into combine training and bowl training.  Then you go right into the season, so you never get a break, but that is the biggest transition for a rookie it is more than meets the eye but it is not that bad.
Q:  The Jets next face the Jacksonville Jaguars, so could you tell us how you feel the Jets defense matches up with the Jaguars offense?
DD:  I know they have great players and a great system.  What I see is they have a lot of weapons over there on the offense and a lot of good things they will try and use against you.  I feel like our defense can matchup against anybody and I trust we'll put in the proper game plan and go out and try and perform like we did last week.
Q:  Can you give us your impressions of head coach Rex Ryan and defensive coordinator Mike Pettine?
DD:  I wouldn't want to work with anybody else as far as it comes to defense and being around defensive minded guys, those guys are phenomenal coaches.  Rex is a players coach he is always looking out for the player's best interest and he keeps the defense fun.  I mean him (Rex) and Mike they are always designing new blitzes and different things to put players in position to do what they do best and just to have something new and present a different look to a team each and every week based upon what they give you is great.
Understanding the philosophy of the defense whether doing just straight coverage, simulated pressure or pressures and just learning how to base on what the team is looking for how to hit them with a lot of different stuff.  They encourage playing like Jets, being on the team you understand what that means, when we play like ourselves, when we play like Jets how good that feels and how great the outcomes are.  They are constantly challenging us, you definitely don't want to play for nobody else when it comes to defense.
Videos
Aaron Rodgers Injury Fallout & Jets/Bills Recap