Tim Tebow Passes On Wildcat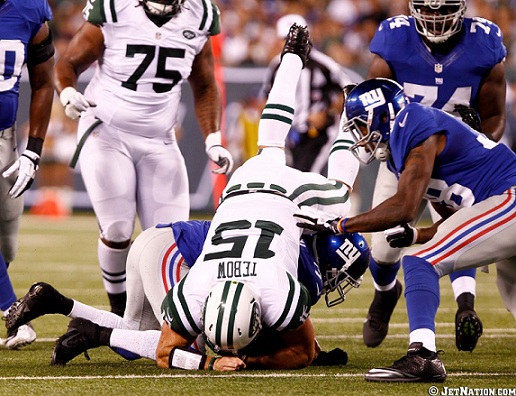 Add Tim Tebow to the list of people who know how to stop the Jets wildcat offense.  There were reports earlier this week stating that Tebow was not happy with the decision to start Greg McElroy and he asked to not be used in any situational packages.
After 14 consecutive frustrating weeks, Tim Tebow gave up. He didn't want to be part of the New York Jets' circus anymore. He reportedly didn't want to be part of the Wildcat package, either, and told coach Rex Ryan about it.
Rex Ryan was asked if Tebow asked to not be a part of the wildcat and he said:
First off, I'll say this, and I've always said it about Tim, he is a competitor and he was disappointed. There's no question. He was disappointed that he was not named the starter. But with that being said, I'm not going to get into private conversations that I have with players. But, was it my decision to use Jeremy Kerley in the Wildcat? Without question (it was). But I'll say this, I believe if Tim's number was called, he would've went in and played. I don't think there's any doubt about that. So that's pretty much it.
Ryan was also asked if the reports of Tebow and Ryan not speaking between Tuesday and Friday were true and here is Ryan's response:
Well, again I'm not going to discuss private conversations. But I have discussions with players all the time, but I'm not going to get into what he said, this or that, timing of this. Like I said before, I believe that if his number was called, that he would've, without question, he would've gone in and played.
In case it isn't perfectly clear from his answer, that is coach- speak for yes, it is true. To read more about Tim Tebow and see fan reaction to this, please visit our New York Jets fan forum.
Videos
New York Jets OTA Presser Takeaways, Aaron Rodgers' Impact and Summer Delusion