NY Jet Team Awards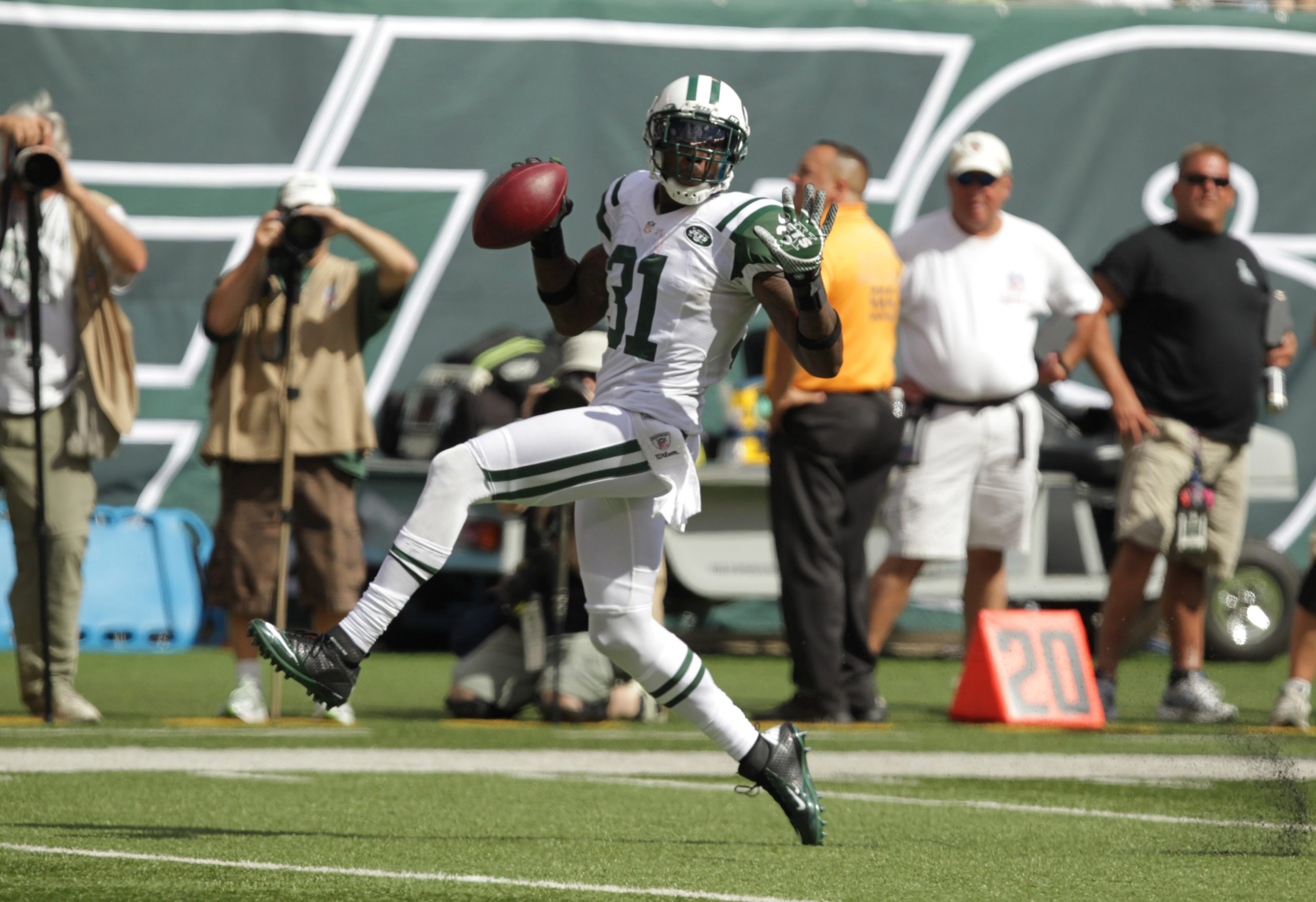 Last week the Jets announced their team awards.  Since these are voted on by NY Jets players we felt this was worth passing along.  Apologies if you have already seen this, if not please keep reading.  Here is the full press release from the NY Jets…
The New York Jets announced their 2012 team awards today. As voted on by teammates, CB Antonio Cromartie was the Curtis Martin Team Most Valuable Player, LB David Harris received the Dennis Byrd Award for Most Inspirational Player, and TE Jeff Cumberland earned the Ed Block Courage Award. The Community Relations Department selected DE Mike DeVito for the Marty Lyons Award for Community Service, while QB Greg McElroy and T Austin Howard were selected as honorees for the Kyle Clifton Good Guy Award as voted on by Jets staff.
Cromartie leads the team with three interceptions and 17 passes defensed. Following the season-ending knee injury in Week Three to last season's Curtis Martin Team Most Valuable Winner, CB Darrelle Revis, Cromartie has taken the responsibility of covering the opponent's best receiver and has headed a Jets defense that ranks second in the NFL in pass defense. Additionally, he has contributed to a defensive unit that has not allowed a 100-yard receiver all season. Since joining the Jets in 2010, Cromartie has tallied 10 interceptions, tied for second-most in the AFC among cornerbacks.
"It's a great accomplishment and it just speaks volumes of what the guys think of me as a player and trying to be a leader of this football team," Cromartie said. "Honestly, without them I wouldn't be the MVP. After [Darrelle] Revis went down, the guys looked to me to try to make sure we turned it up and did the things we needed to do on the back end."
Harris, the Jets 2007 second-round draft pick in his sixth season out of Michigan, leads the team in tackles for the fourth consecutive season with 123 stops. Since 2009, he tops all NFL inside linebackers with 16.5 sacks. Furthermore, Harris has started 66 consecutive games, the third-longest streak among NFL linebackers. He has not missed a game since 2008, when he did not play in five contests, but still finished second on the squad with 87 takedowns.
"It means a lot, especially to be voted by my teammates," Harris said. "Everybody knows what Dennis Byrd means to the Jets organization, with everything that happened to him. It's one of the top awards you can get from the guys in this locker room."
DeVito was selected as the winner of the Marty Lyons Award for Community Service, given to the player who gives from the heart through charity and community involvement. This holiday season, he donated $5,000 to the Community Soup Kitchen of Morristown and served meals to 250 guests. He has also participated in countless charity initiatives this year, including: attending several Alliance for Lupus Research corporate fundraising events for the Walk With Us to Cure Lupus Program, visiting patients at Goryeb Children's Hospital at Morristown Medical Center, attending the United Way Gridiron Gala which raised more than $1 million, appearing at the Jets Taste of the NFL supporting the Jets Foundation and City Harvest and visiting Thomas Edison Central Six School as part of the Eat Right Move More program which focuses on fighting childhood obesity.
"I've always had so much respect for Marty, as a player and for the type of person he is," said DeVito of his fellow defensive tackle. "I'm honored to accept an award that has his name on it, and I love this community. The Jets organization has a great focus on the community and on giving back and I've really bought into it in the New York/New Jersey area where we live."
McElroy and Howard shared the Kyle Clifton Good Guy Award. Now in its 17th season, the award recognizes exceptionally consistent willingness, cooperation and professionalism in daily interaction with the various departments in the organization. McElroy, in his second year with the Jets, rallied the Jets to a 7-6 victory against Atlanta in Week 13 when he came off the bench and threw a one-yard touchdown pass to Cumberland in the fourth quarter. He was named the starting quarterback for Sunday's game against San Diego.
"He's been a winner his whole life," Ryan said. He's won a national championship (and) won a state championship. His whole resume speaks about him obviously being a very confident guy and a confident leader."
Howard, in his first full season with the Jets, earned the starting right tackle position after a strong performance in training camp. He has started all 14 games and has only missed one offensive snap.
"He's a tremendous run blocker and he's almost like the old throwback right tackles, he kind of fits that mold, the power right tackle," Ryan said. "I think he's done a tremendous job over there for us."
Cumberland was named the Ed Block Courage Award winner for his perseverance and dedication in recovering from a season-ending Achilles injury suffered in Week Three of 2011 at Oakland to start 10-of-13 games and set career-bests in receptions (26), yards (323) and touchdowns (3). Also during his recovery, Cumberland interned with the Jets sales department to complete his degree in sport management. The award is named in honor of Ed Block, the longtime head athletic trainer of the Baltimore Colts who was a pioneer in his profession and a respected humanitarian. The award is given annually to one player from each NFL team. Recipients of this award embody everything that is positive about professional athletes as they serve as inspirations in their locker rooms and as constructive role models in their communities. Cumberland, along with each team's award recipient, has the option to travel to Baltimore in March to receive his trophy at a gala and spend time at the local Courage House at St. Vincent's Center. This visit and the time spent with the hospitalized children will allow each recipient to fully comprehend the true meaning of the award.
"Coming back from any injury is tough. Coming back from my injury, you've basically got to learn how to walk again," Cumberland said. "It's really important to know that your teammates saw the work you were putting in to get back on the field. I felt back to normal, I'd say, sometime during camp. And I feel like I've been able to show people and my coaches and teammates that I can come out and do well, as far as the running game with blocking, and in the passing game, when my number's called, I can make plays."
PAST WINNERS:
CURTIS MARTIN AWARD
1961 — Bill Mathis, Running Back
1962 — Dick Christy, Running Back
1963 — Bake Turner, Wide Receiver
1964 — Dainard Paulson, Safety
1965 — Matt Snell, Fullback
1966 — George Sauer, Wide Receiver
1967 — Don Maynard, Wide Receiver
1968 — Joe Namath, Quarterback
1969 — Joe Namath, Quarterback
1970 — John Elliott, Defensive Tackle
1971 — Larry Grantham, Linebacker
1972 — John Riggins, Fullback
1973 — Emerson Boozer, Fullback
1974 — Joe Namath, Quarterback
1975 — John Riggins, Fullback
1976 — Clark Gaines, Fullback
1977 — Randy Rasmussen, Guard
1978 — Wesley Walker, Wide Receiver
1979 — Marvin Powell, Tackle
1980 — Bruce Harper, RB/KR
1981 — Richard Todd, Quarterback
1982 — Freeman McNeil, Running Back
1983 — Lance Mehl, Linebacker
1984 — Freeman McNeil, Running Back
1985 — Ken O'Brien, Quarterback
1986 — Al Toon, Wide Receiver
1987 — Al Toon, Wide Receiver
1988 — Al Toon, Wide Receiver
1989 — JoJo Townsell, Wide Receiver/Returner
1990 — Pat Leahy, Kicker
1991 — Chris Burkett, Wide Receiver
1992 — Brian Washington, Strong Safety
1993 — Johnny Johnson, Running Back
1994 — Mo Lewis, Linebacker
1995 — Marvin Jones, Linebacker
1996 — Adrian Murrell, Running Back
1997 — Mo Lewis, Linebacker
1998 — Vinny Testaverde, Quarterback
1999 — Curtis Martin, Running Back
2000 — Curtis Martin, Running Back
2001 — Curtis Martin, Running Back
2002 — Chad Pennington, Quarterback
2003 — Santana Moss, Wide Receiver
2004 — Curtis Martin, Running Back
2005 — Jonathan Vilma, Linebacker
2006 — Laveranues Coles, Wide Receiver
2007 — Leon Washington, RB/KR
2008 — Thomas Jones, Running Back
2009 — Darrelle Revis, Cornerback
2010 — David Harris, Linebacker
2011 — Darrelle Revis, Cornerback
2012 — Antonio Cromartie, Cornerback
DENNIS BYRD AWARD
1992 — Dennis Byrd, Defensive End-Tackle
1993 — Lonnie Young, Free Safety
1994 — Ronnie Lott, Free Safety
1995 — Kyle Clifton, Linebacker
1996 — Wayne Chrebet, Wide Receiver
1997 — Pepper Johnson, Linebacker
1998 — Bryan Cox, Linebacker
1999 — Ray Lucas, Quarterback
2000 — Bryan Cox, Linebacker
2001 — Curtis Martin, Running Back
2002 — Curtis Martin, Running Back
2003 — Curtis Martin, Running Back
2004 — Eric Barton, Linebacker
2005 — Brooks Bollinger, Quarterback
2006 — Chad Pennington, Quarterback
2007 — Chad Pennington, Quarterback
2008 — Thomas Jones, Running Back
2009 — Thomas Jones, Running Back
2010 — LaDainian Tomlinson, Running Back
2011 — LaDainian Tomlinson, Running Back
2012 — David Harris, Linebacker
MARTY LYONS AWARD
1990 — Marty Lyons, Defensive Lineman
1991 — Rob Moore, Wide Receiver
1992 — Brad Baxter, Fullback
1993 — Bobby Houston, Linebacker
1994 — Boomer Esiason, Quarterback
1995 — Adrian Murrell, Running Back
1996 — John Paci, Quarterback
1997 — Lorenzo Neal, Fullback
1998 — Leon Johnson, Running Back
1999 — Dwight Stone, Wide Receiver
2000 — Ray Lucas, Quarterback
2001 — Kevin Mawae, Center
2002 — Damien Robinson, Safety
2003 — Marvin Jones, Linebacker
2004 — Kareem McKenzie, Tackle
2005 — Kevin Mawae, Center
2006 — Erik Coleman, Safety
2007 — Jerricho Cotchery, Wide Receiver
2008 — Tony Richardson, Fullback
2009 — D'Brickashaw Ferguson, Left Tackle
2010 — Brad Smith, Wide Reciever
2011 — Dustin Keller, Tight End
2012 — Mike DeVito, Defensive End
KYLE CLIFTON AWARD
1996 — Kyle Clifton, Linebacker
1997 — Otis Smith, Cornerback
1998 — Kevin Mawae, Center
1999 — Bryan Cox, Linebacker
2000 — Vinny Testaverde, Quarterback
2001 — Curtis Martin, Running Back
2002 — Chad Pennington, Quarterback
2003 — Sam Garnes, Safety
2004 — Jason Ferguson, Defensive Tackle,
Kareem McKenzie, Tackle
2005 — Erik Coleman, Safety
2006 — Jerricho Cotchery, Wide Receiver
2007 — Brad Smith, Quarterback
2008 — Abram Elam, Safety
2009 — James Dearth, Long Snapper
2010 — Mike DeVito, Defensive End
2011 — Sione Pouha, Nose Tackle,
Marcus Dixon, Defensive Lineman
2012 — Greg McElroy, Quarterback
Austin Howard, Tackle
ED BLOCK AWARD
1984 — Joe Fields, Center
1985 — Johnny Lynn, Cornerback-Safety
1986 — Dan Alexander, Guard
1987 — Joe Klecko, Defensive Tackle-End
1988 — Tom Baldwin, Defensive Tackle
1989 — Ken O'Brien, Quarterback
1990 — Freeman McNeil, Running Back
1991 — Paul Frase, Defensive Tackle-End
1992 — Dale Dawkins, Wide Receiver
1993 — Lonnie Young, Free Safety
1994 — Jim Sweeney, Center
1995 — Kyle Clifton, Linebacker
1996 — Siupeli Malamala, Guard-Tackle
1997 — David Williams, Tackle
1998 — Pepper Johnson, Linebacker
1999 — Marvin Jones, Linebacker
2000 — Jason Fabini, Tackle
2001 — Curtis Martin, Running Back
2002 — Vinny Testaverde, Quarterback
2003 — Dave Szott, Guard
2004 — Chad Pennington, Quarterback
2005 — Wayne Chrebet, Wide Receiver
2006 — Chris Baker, Tight End
2007 — Laveranues Coles, Wide Receiver
2008 —  Jerricho Cotchery, Wide Receiver
2009 — David Harris, Linebacker
2010 — Shaun Ellis, Defensive End
2011 — Brandon Moore, Guard
2012 — Jeff Cumberland, Tight End
Videos
NY Jets Phase 3 OTAs, Expectations and a Minor Calf Tweak with Greg Renoff