Home Slider Jet News Jets Report Card
New York Jets Report Card (Buffalo Bills)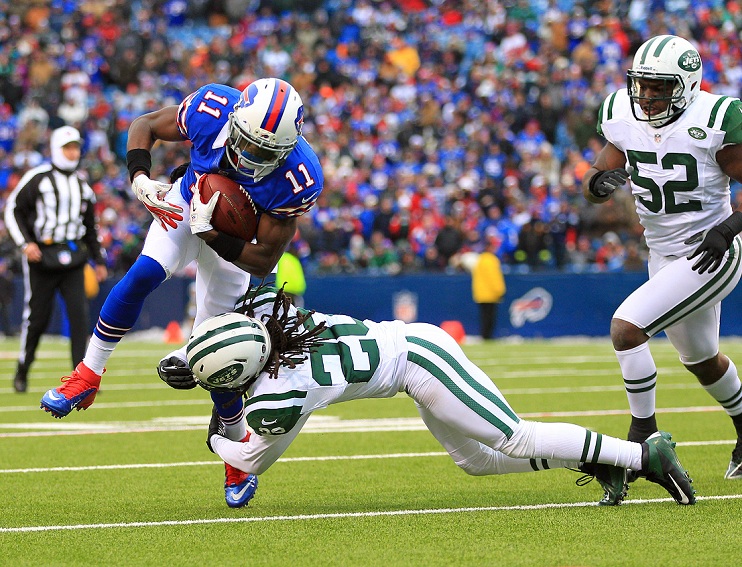 New York Jets Report Card
Week 17: New York Jets @ Buffalo Bills
Quarterback: F
Sanchez: 17/35, 235 yards, 0 TD, 1 INT, 2 fumbles (1 lost)
On paper, the stat line is pretty bad. Yet, the performance was even worse than it looks on paper. Sanchez looks totally shot as an NFL quarterback, making rookie mistake after rookie mistake.
Running Backs: B
Greene: 19/74/0, 2 receptions for 3 yards
Powell: 12/56/0, 2 receptions for 12 yards
McKnight: 1/2/0
Hilliard: 1/2/0, 1 reception for 7 yards
Give these backs credit for running well despite facing 7 to 8 men in the box all day.
Wide Receivers/Tight Ends: C
Edwards: 4/42/0
Kerley: 3/88/0
Reuland: 1/4/0
Cumberland: 3/36/0
White: 1/13/0
The mystery that is Braylon Edwards continues. There must be something about wearing Jet green that makes him a better receiver. With a competent quarterback under center, Jeremy Kerley might have a legitimate chance at amassing a 1,000+ yard season, making  him a rare draft day steal for Mike Tannenbaum. Kerley will be back next season, and if this organization wises up then so will Braylon.
Offensive Line: B
Other than a few holding calls, the line play was more than adequate today. They established holes on the ground and only allowed 1 sack.
Defensive Line: C
DeVito forced a fumble that the Jets offense couldn't convert. Muhammed Wilkerson is a pro-bowler in the making. There was pressure at times, but a sack or two would have helped.
Linebackers: C-
Solid effort, mostly limited the Bills dangerous ground threats, but they need more youth and speed. It's the big plays that kill them.
Secondary: B+
The Bills passing game was held in check until the late game, when this unit became winded because of their struggling offense.
Special Teams: D-
Nick Folk gets credit for a 3 field goals, but a 4th was blocked. The Jets nearly turned the ball over on a kickoff.
Coaching: F
Special Teams coach Mike Westhoff has had one of his most disappointing seasons, and that continued today. Playing for pride in Buffalo, Rex Ryan's club looked hapless and helpless.
Videos
NY Jets Phase 3 OTAs, Expectations and a Minor Calf Tweak with Greg Renoff