Several NY Jets Discuss Their Future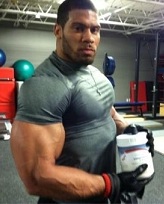 Several NY Jets players met with the media today as they were cleaning out their lockers.  Here are some quotes from D'Brickashaw Ferguson, Nick Mangold, Mike Devito and Laron Landry.
D'Brickahaw Ferguson on offense being so inconsistent…
Again, it's hard to place my finger at what the problem was. I think if we knew what the problem was, we would've addressed it. It wasn't the type of year that we wanted and hopefully this will be an end to this type of season. We don't want to continue to have losing seasons.
Nick Mangold was asked about Rex Ryan returning as head coach…
I'm excited that Rex (Ryan) is going to be here. I know that he has a passion and a fire for this game and for this team. We have to do a better job on the field and that starts here shortly.
Mike Devito was asked about Mike Tannenbaum being let go and his own upcoming free agency…
It's tough because I've always felt that Mike took a chance on me to come here. He gave me my first shot in the NFL. That's allowed me to provide for my family, have a great life (and) be very blessed. It's always tough to see something like that. It kind of reminded me of when Eric (Mangini) left. It's hard to see something like that, but I know someone like Mike, with his background and the type of person he is, I know he'll land on his feet.
I'm just going to keep working hard. I feel like I still have a lot to offer. I feel like I can continue to get better. Wherever I go, whether it's back here or with another team, I'm just going to try to be a great person, try to be a leader, continue to try to get better and put a good product on the field. That's all I can do.
Laron Landry was asked if he wanted to come back and play for the Jets…
Most definitely, I would love to come back. They do things the right way here. They definitely helped me and got me through a full season, the organization as a whole (and) teammates. They welcomed me with open arms.
Here are more thoughts on locker clean out today in our NY Jets message board.
Videos
New York Jets OTA Presser Takeaways, Aaron Rodgers' Impact and Summer Delusion