Featured Editorials Home Slider Podcasts
Can John Idzik Jump Start The Jets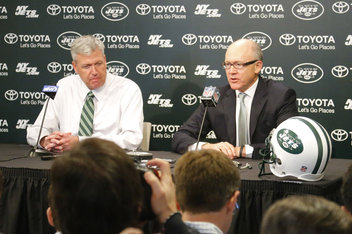 Jump, that is what the Jed Hughes  who was the head of the executive search firm the Jets used made them do.  They interviewed just about everyone.  On our New York Jets Podcast, Courtney Aurillo and Phil Sullivan talk about the new GM John Idzik and some off the recent coaching changes with Marty Mornhinweg and David Lee joining as Offensive Coordinator and QB Coach.
They also look at the age old question of who will play QB for the New York Jets next season and at the end they discuss the Baltimore Ravens victory over the New England Patriots.
Listen in by clicking play above or subscribing below.  If you are on a mobile device you can click this link for the JetNation Podcast.
Videos
NY Jets Phase 3 OTAs, Expectations and a Minor Calf Tweak with Greg Renoff