Featured Editorials Home Slider
Sanchez Last Chance As Idzik Looks At Alternatives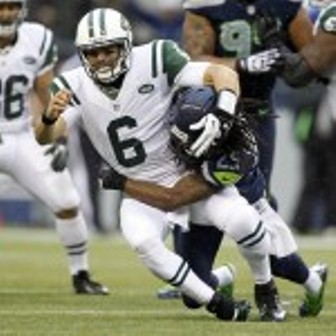 Since the end of the 2012 regular season there have been many questions as to whether or not quarterback Mark Sanchez would return to the Jets in 2013.  With Sanchez salary guaranteed and a hefty cap charge if released it appears he will remain on the roster at least through next season.
With new offensive coordinator Marty Mornhinweg Sanchez will be learning a new offense much as he did last season when Tony Sparano was hired.  Sanchez enlisted the aid of former Jets and Dolphins quarterback Chad Pennington to learn Sparano's offense last year.  Now Sanchez is looking towards former San Francisco 49ers and Philadelphia Eagles quarterback Jeff Garcia as a mentor since Garcia played in Mornhinweg's offense and understands the system.
Coming off a dismal 2012 season Sanchez only completed 54% of his passes while throwing 13 touchdowns and 18 interceptions.  Learning a new offensive system, which tends to be more pass heavy, will put increased pressure on Sanchez to improve his accuracy and decision making, not his strongest attributes.
New York Jets general manager John Idzik was recently interviewed on WFAN's sports radio "Boomer and Carton" show.  Idzik was asked about the quarterback situation along with Mark Sanchez, returning given his salary cap constraints, and could Sanchez handle a new offensive coordinator or would the team bring in competition for the starting quarterback job?
"I think that's going to be our mantra throughout, not only at the quarterback position but every position, we'll look to improve every day.  We'll look at a lot of different avenues be it free agency, the draft, post draft, working guys out throughout the year," Idzik said.  "So that's going to be a constant thing with us and it certainly going to apply at the quarterback position but Mark is a New York Jet, we're glad to have him, I think he is a competitor as … mentioned he has a new offensive coordinator … we're all anxious to get on board and see what comes."
The Jets general manager was asked if he could see anyway Sanchez is not with the team for the upcoming year?
He responded, "It is way premature, we are in the midst of finishing our coaching staff once that happens then we'll drill down into our roster and see where we need to improve and alternatives we may have via trade, free agency or whatnot, so it is still early but I'd ask everyone to bare with us and we're going to make thorough well researched decisions."
While Idzik's answers indicate he would not be opposed to moving on from Sanchez the most likely scenario, due to the financial constraints, would be to have Sanchez on the roster and hope he can resurrect his career under another coordinator but also bring in competition at the position.
Former Seattle Seahawk's quarterback Tarvaris Jackson, whom Idzik saw firsthand during his tenure with Seattle, has been mentioned as a possible addition and the team could obtain a quarterback via the draft as well.
This will be Sanchez last chance to prove he's the franchise quarterback the Jets drafted 5th overall in 2009 but given his career statistics Sanchez does not appear to be the best fit for the Jets new offense.  Idzik will be laying out options at quarterback and Mark Sanchez probably has to be one of them but he'll explore every plausible alternative at the position as the Jets head into next season.
Videos
Aaron Rodgers Injury Fallout & Jets/Bills Recap