Featured Editorials Home Slider
Will Greg McElroy Be On The 2013 Jets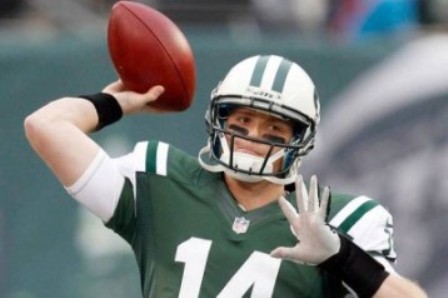 For much of last season Jets fans were calling for a change at the quarterback position and while some preferred to see what Tim Tebow could offer many felt that the more traditional drop-back style of Greg McElroy would be successful.
During a week 13 matchup with the Arizona Cardinals McElroy's contingent got their wish as a struggling Mark Sanchez was replaced and McElroy didn't disappoint the Met-Life faithful leading the offense to an eventual winning touchdown.
Head coach Rex Ryan decided to go back to Sanchez until week 16 when he named McElroy the starter against the San Diego Chargers after the Jets had been officially eliminated from the playoffs.  This was the first time McElroy would be starting an NFL game.  After going 14 of 24 for 185 yards passing, one interception, a fumble lost and being sacked 11 times it looked as if McElroy was not ready to become the Jets quarterback of the future.
With the quarterback position a big question it will be up to general manager John Idzik to deal with this major problem.  Mark Sanchez is studying new offensive coordinator Marty Mornhinweg's system with former quarterback Jeff Garcia as Sanchez is all but locked into a roster spot due to his immovable contract.
It's been reported that Idzik is interested in bringing in a low-cost veteran quarterback and there is a very good chance the team will use one of their first three draft picks (1st – #9), (2nd – #39), (3rd – #72) on this position.
If the team acquires a veteran and a rookie, Tebow likely released, what does that mean for McElroy?  A former 2011 round seven pick now entering the third year of his contract is certainly expendable from a financial standpoint and like it or not a rookie will get at least one season to potentially become the Jets long term answer at quarterback.
It's still early in the Idzik regime but signs point to bringing in a veteran signal caller who could obtain the starting job over Sanchez while the rookie develops and learns.  Just wonder if McElroy will be the one left without a chair after the music stops?
Videos
Aaron Rodgers Injury Fallout & Jets/Bills Recap