Jets Draft Prospect TE – Kelce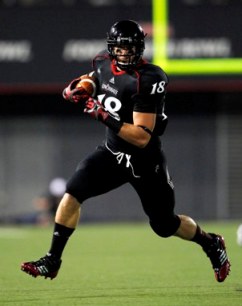 The Jets are implementing Marty Mornhinweg's new offense and the team will need to restock with players who fit his system.  This past season the tight end position was not as productive as it had been over the last several years.  Free agent TE Dustin Keller, 6'2", 250, known more for his pass catching ability then his blocking skills struggled to see the field with injuries and is unlikely to be resigned.  With the team being in poor financial shape obtaining a veteran will be difficult so the best place to find a potential starter is in this year's upcoming draft.
University of Cincinnati redshirt senior tight end Travis Kelce, 6'6", 260, had a breakout season for the Bearcats hauling in 45 passes for 722 yards, 8 touchdowns with a 16.0 yards-pre-catch average.  Travis has some NFL bloodlines as his brother Jason plays center for the Philadelphia Eagles.
Kelce's versatility is what makes him the perfect fit for the Jets new offense.  He can play a variety of roles as he's a good blocker, even in space, can be a slot receiver as well as play tight to the line.  He has good speed for a big man, soft hands, can catch passes in tight windows and offers a safety outlet for the quarterback.
Here are some highlights of Kelce during the 2012 Belk Bowl:
Check out our NY Jets video below.
Notice the yards after the catch, an important aspect to Mornhinweg's offense, and the ability to split defenders while still out running them.  Drawing defenders, especially the safeties, is an important factor to the success of the offense and a big target will certainly do that potentially opening up plays down field to the wide-outs.
One red flag is Kelce was suspended for the entire 2010 season by Bearcats head coach Butch Jones for violations of team rules.  Another issue is Kelce being a "one hit wonder" as the 2012 season provided his only significant production during his colligate career.
Kelce has all the physical tools to be a prime fit for Mornhinweg's offense and is likely to be a mid-round draft choice.  The Jets would be wise to take a good look at Kelce as he has unlimited potential to flourish in the Jets new offense.
Videos
NY Jets Phase 3 OTAs, Expectations and a Minor Calf Tweak with Greg Renoff