Featured Editorials Home Slider
NY Jets Player To Watch OLB – McIntyre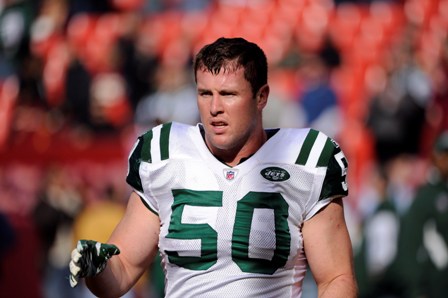 The recent roster salary purge by the New York Jets has definitely left some openings at certain positions.  Last season's starting outside linebackers Calvin Pace and Bryan Thomas look as if they will not be back with the team.
Even after slashing payroll the Jets still need to find quality players at a bargain price.  One guy who has the potential to fill a void at outside linebacker is third year player Garrett McIntyre.
McIntyre took a difficult road to get to the NFL:
To understand McIntyre's path is to know his failures. His lowest moment came the first time he was cut by an NFL team — the Seattle Seahawks let him go in 2006 after bringing him in as an undrafted free agent out of Fresno State. One body blow was followed by others in a span of months.

He was released twice more that summer, starting a sojourn that took him from the Arena Football League with San Jose to the Canadian Football League with Hamilton.
Source: Newark Star-Ledger / Mike Vorkunov
In 2011 he finally got the big break and made the Jets 53-man roster.  Being used on most special teams McIntyre was one of that units best assets and a top tackler.  He also got a chance to start 3 games at linebacker as Bryan Thomas missed most of the 2011 season with an Achilles tendon tear.
He did eventually lose the starting role to Jamaal Westerman but was given another chance to prove himself in 2012 when once again he started for an injured Thomas.
McIntyre made the most of his opportunity finishing the 2012 season with 4 starts, 35 tackles and 3.5 sacks.  While not a flashy player he certainly has the ability to hold down the position as others develop with the Jets likely addressing outside linebacker in the 2013 draft.   His experience along with a modest salary ($555,000) makes McIntyre a real win-win for the team.
The Jets will need to get production from McIntyre and other like him to be successful in 2013.  Low cost high upside players who will perform vital roles while helping keep the team's finances in check.  With all he's been through to achieve playing in the NFL look for career year out of Garrett McIntyre.
Videos
Aaron Rodgers Injury Fallout & Jets/Bills Recap