The NY Jets QB Situation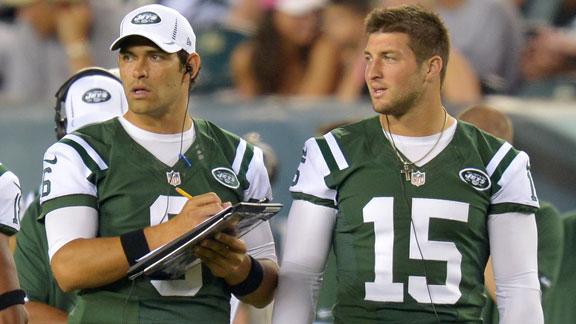 You simply can't hold a NY Jets press conference without some QB talk.  Rex Ryan and John Idzik provided some updates on Mark Sanchez and Tim Tebow.  For those of you playing the home version; Tebow will be traded or released.  While Sanchez will have a shot at winning the starting job next year.  How good that shot will be depends on who they can bring in to compete against him (more on that later).
Rex Ryan
On whether Mark Sanchez enters the season as the starter…
Number one, you heard what John talked about, the competition. We're going to bring in competition at every position, not just the quarterback position. That is what we want to do here. So to say, Mark Sanchez, or this quarterback or that quarterback, I think there's clearly going to be competition at that position.
On whether Sanchez's best days are ahead of him…
I always think a young player can improve. I don't think there is any doubt. I think if you look at Mark, what is he, 25/26 years old? In the life of a quarterback, I don't think that's over the hill by any stretch.
On whether Tebow will be a part of the quarterback competition…
Currently, when you look at everything, Tim is under contract to be a New York Jet. We'll see how things go in the offseason, but Tim is under contract.
On whether Tebow will be a part of the competition at quarterback…
I think everything is too early to tell right now. We really don't know how the offseason goes, how the draft goes, how free agency goes. There are a lot of variables involved in things. Before I go on record with any statement like that, I realize now that it's a long process.
John Idzik
On evaluating Mark Sanchez after the 2012 season…
I don't limit it to last year. I think it's a full book. Mark Sanchez has been in the league for a couple of years, and I think everyone, Mark included, recognizes that he, our offense — shoot, our team as a whole — has to perform better than we did in 2012. And we're going to do that. We're going to do everything to increase the competition so that he plays better. We've got a new offensive coordinator, we have a new quarterback coach, we have staff changes that I think will be healthy for Mark and so that we can again get the juices flowing and turn the page into 2013, not look back to 2012, start anew and get rolling.
Videos
Aaron Rodgers Injury Fallout & Jets/Bills Recap