GM Idzik And Coach Ryan Q & A With Ticket Holders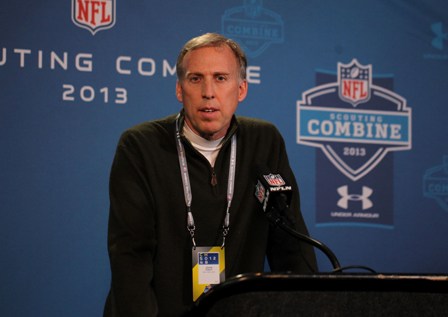 New York Jets general manager John Idzik and head coach Rex Ryan had a conference call today taking questions from season ticket holders.
They were given a variety of questions, especially on the Darrelle Revis situation, but neither Idzik nor Ryan gave to much insight as to what the teams actually plans are:
(Note: questions are paraphrased)
Q:  What is the team going to do this year at running back and quarterback?
Ryan:  "This time of year right now it is probably too early to tell what our final roster is going to look like  … The 'ground & pound' offense at least our first two seasons definitely fit what we needed to do …  I think right now the way the game is you'd like to be a little more multiple but still you still have to run the football especially being an east coast team."
Q:  What are the chances of building a winner given the salary cap constraints the team currently has?
Idzik:  "I don't look at them as constraints … we're dealing with it, it's kind of an evolution as you get into free agency and you deal with your cap, you see a few moves we've made so far … our goal is to build in flexibility so we'll have options … in free agency and the draft."
Q:  You (Coach Ryan) said there was no truth to the rumors about Darrelle Revis being traded and had there been Revis' agent would have contacted you.  Now it looks like it's (Revis trade) going to happen so if you didn't say the truth how can we believe you in the future?
Ryan:  "You're making an assumption that there was some truth and validity to that comment which I will stand firm by saying there was no truth to that, so that's what I've stated before and all that.  One thing about me is I will tell you what I believe to be the truth, sometimes it doesn't work out that way but it's certainly not intentional … I'll stand by my comments … I made the comments that I made because that's what I believe to be the truth."
Q:  Are you (GM Idzik) thinking about rebuilding or retooling the roster after having a chance to look it over?
Idzik:  "In our league there is a negative connotation associated with rebuilding but honestly every NFL team retools or rebuilds to a certain extent.  I mean we're going to look, that we're never content with where we are today, that we're always going to look to improve.  That said we have a fine foundation here … I wouldn't call it rebuild or retool it's just a constant source of improvement and competition."
Q:  What are you doing with (Tim) Tebow this year?
Idzik:  "Tim is currently on our roster and what we are doing is we are trying to increase competition at that position and positions across the board.  So, we're going to let the competition play out, we're going to see who we are able to bring on board and let it play out this offseason and into training camp.  So I think that will be healthy for all concerned including Tim."
Q:  How are the Jets approaching the draft?  Will the team's philosophy be more incline to trading up for more impact or back to gain more players?
Idzik:  "A lot of that flows in the draft as you get going in the draft and some things are very unpredictable in that if you're talking about trading up or trading down you have to have some suitors for you pick.  So, it's hard to determine I know there's a lot of talk that will lead up to the draft and I'd say a lot of it is not true.  There is a lot of smoke out there and you really can't gain a feel for it until you get in.  That said we will always look to the draft to improve our roster by way of gaining what we feel are the best players.  You don't want to be hostage to a need but you really want to draft the best players."
Q:  What was going on with free agent Yeremiah Bell?
Idzik:  "We can't really comment on specific players, I can say we have reached out to our free agents to be … a lot of the guys we're going to want back but you really can't predict free agency it is a two way street.  A lot of our guys are going to field interest and we just got to take it day-by-day and see how it plays out.  We have reached out to our guys to let them know how we feel and we will see what happens in the coming weeks."
Q:  The Jets are considered the joke of the NFL so can you get the players to come in and turn this thing around?
Ryan:  "I still think you'd be surprised to find out how many guys really do want to come here … the New York Jets are a team that many players want to play for if not all, that is kind of my feeling on it.  Obviously we had a very disappointing year there is no hiding from that …  We are going to field a team … we can be proud of and our fans can be proud of and basically earn our fans support."
Q:  What was the teams focus on Darrelle Revis?
Idzik:  "Darrelle is a very valued player on our team, so our focus is squarely on getting him healthy getting him back to his level of play which will help us immensely.  So, that's our focus right now … we'll let things play out but that is where we are at the moment."
Q:  Could you (Idzik & Ryan) provide some insight on your thinking of Revis' future with the team and the current status of his contract?
Idzik:  "We won't discuss contractual things publicly … Darrelle Revis is a New York Jet and we are very happy, very, very happy to have him as a New York Jet and our focus is purely on getting him better.  He's sustained a pretty significant injury, he's been busting his tail on his rehab we're monitoring that closely by all accounts, by his doctor's accounts, he's doing very well by their estimation, he is ahead of schedule.   So we're anxious to get him back, get him back in the building, getting him back with his teammates and have him help us not only on the field but in the building in his approach.  So, we're very fortunate to have a player like Darrelle Revis on our team."
Videos
NY Jets Phase 3 OTAs, Expectations and a Minor Calf Tweak with Greg Renoff