Darrelle Revis Talks Trade Rumors, Coach Ryan And Sanchez During Interview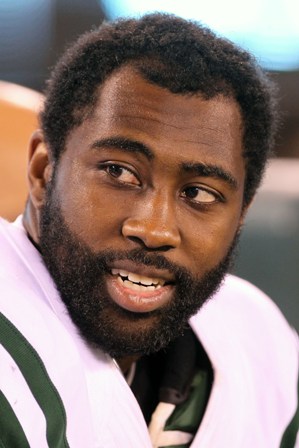 New York Jets All-Pro cornerback Darrelle Revis was interviewed by Seattle Seahawks fullback Michael Robinson on RealRobReports.com.  Revis touched upon the progress of his injured knee, feelings on trade rumors and relationship with head coach Rex Ryan along with the Jets organization.
"It's going well just taking it day-by-day and trying to improve that's really the main focus," Revis said when asked about his knee rehabilitation.  "I know there is a lot of other things going on with trade talks and all of that but my main job is to really focus on my knee and get back to playing football."
The star corner expressed his feelings about Jets exploring trade possibilities for him saying, "It's hit home, it definitely hit home, especially being one of the best players out there and come to find you're getting shopped, yeah it really hits home but my main focus is it really doesn't matter where I be at.  I know what I can do, I'm confident in what I do … whether it be there with the New York Jets or it be with another team I have to do what I have to do and play ball and do my thing for that team."
When asked about potentially playing for the San Francisco 49ers, a team rumored to be interested in trading for him, Revis said, "This is a team with a great coach … and great players on their team, they did a lot last year.  For me looking at their roster and their team I would just be an addition to help them win that trophy, would it be awesome, I mean yeah.  My main goal as a player and I think all of us as players in the NFL is to hold that Lombardi trophy up in the air and wear that ring.  They're definitely are contenders and will be a contender for the next couple of years."
"Me and Rex (Ryan) have a great relationship we're close man not just to say my relationship, he's a player coach, he's very close with a lot of players on the team," Revis said about head coach Rex Ryan.
"We got a new GM (General Manager) John Idzik … he is trying to clean house to get some great players in there get underneath the cap space and get some great guys, I mean that's what we want there.  We want guys for Mark Sanchez to throw to, some deep threats, and on defense we got a couple of problems at linebacker that we need to fix as well and on the defensive line," Revis said about the Jets 2013 outlook.  "We've got the draft coming up and I'm sure we'll do well in the draft try and get a defensive end or defensive tackle cause we need a pass rusher.  Right now it's a rebuilding mode … just try to get the right pieces to the puzzle for 2013."
"Yes Mark Sanchez can get it done but we have to put the right weapons around him," Revis said when asked if the embattled quarterback could succeed this season.  "That should be our focus for Mark Sanchez to put the right guys around him, for him to be successful, because if you look at his past even at USC (University of Southern California) he had some great athletes around him some great guys and that is what you have to surround him (with)."
When asked who the best, when healthy, cornerback in the league is Revis said, "I believe a healthy Darrelle Revis I think I'd still be at the top of the food chain.  Only because the body of work I've put in, in the league and the respect that I get from fellow receivers and teams."
Videos
NY Jets Phase 3 OTAs, Expectations and a Minor Calf Tweak with Greg Renoff