Draft Featured Editorials Home Slider
Jets 2013 Mock Draft and Analysis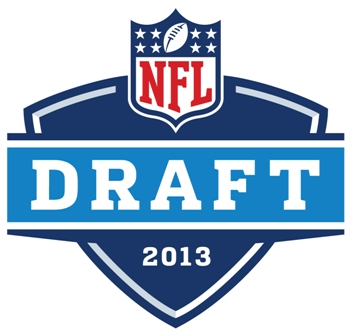 The New York Jets have an immense amount of needs to address on Draft Day.  The following is an analysis of these needs and potential prospects to fill them:
Defensively:  They have to replace two outside linebackers, corner and likely a safety, not to mention add a pass rusher off the edge to help solidify a young talented defensive line.
Offensively:  Besides a quarterback the Jets are in need of an all around running back that can rush between the tackles, be able to make moves in space and be a great receiver in the passing game.  They need another playmaker at the wide receiver position because they just don't know what Santonio Holmes will look like coming off an injury.  This year's draft crop of WRs is very deep, so a great playmaker should be available in rounds two or three.  The Jets are also in desperate need of offensive lineman, especially guards.
General Manager John Idzik will have to decide if the team drafts a quarterback prospect this year since Mark Sanchez might be cut after 2013, Tim Tebow is probably traded or released soon and Greg McElroy's future isn't set.  Training camp competition in 2014 between a second year QB and a rookie QB from the 2014 draft could only help instill new GM Idzik's competition philosophy, so getting a young signal caller in the 2013 draft makes sense.
The following list of players was comprised as a strictly "fit the needs" list.  It is not to say that the Jets will take these particular players or if they will even be available for them when it's their turn to pick.  However, it is based on need and includes a primary along with an alternative prospect.  Some picks may seem like a reach, but in order to guarantee they fill holes, gain depth and create competition as Idzik has said time and time again, they must have a similar philosophy in April.
Jets Draft Rounds:
1.  DE – Ezekiel "Ziggy" Ansah, BYU / G – Chance Warmack, Alabama
Ansah is a raw yet talented DE from BYU.  He is athletic, has very long arms and hasn't even cracked his full potential.  Fans may ask, "Why pick a guy who's saw raw rather than a DE like Jarvis Jones or OLB Barkevious "KeKe" Mingo who has SEC experience?"  The reason: Carl Dunbar.  Dunbar is one of the best defensive line coaches in the entire NFL.  In one season with the Jets look what Dunbar made Muhammad Wilkerson and Quinton Coples into.  There's no doubt that Dunbar can do the same for Ansah.  Everyone talks about how to stop this new pistol formation, what better way than having a DE who can play the zone read option and be athletic enough to adjust and get to the quarterback on play action?  To me Ansah, if still available, is a guy the Jets have to consider.
If Ansah is off the board, and Chance Warmack is still there, I'd look to take Warmack at #9.  A lot of scouts and draft experts say to never draft an OG in the early first round.  Warmack is a once in a decade guard who can be a staple at the position for the next 10-15 years for the Jets.  With Matt Slauson and Brandon Moore set to test the open market, the Jets are in dire need of a guard.  Moore will likely be too expensive for the Jets to keep.  Although it's not necessarily the "sexy" first round pick, imagine a line of D'Brickashaw Ferguson, Chance Warmack and Nick Mangold solidifying that line for years to come.
2. TE – Zach Ertz, Stanford / WR – Robert Woods, USC
Ertz is the most well rounded TE in the draft.  He's an excellent blocker in the run game, has tremendous hands in the passing game and the able to create separation while making tough catches in tight spaces.  The Jets cannot rely on Hayden Smith and Jeff Cumberland to be their future tight ends and in a TE-heavy draft the Jets need to explore Ertz as a replacement/upgrade from Dustin Keller.
WR Robert Woods could easily be a 2nd round steal this year.  Some would say that the 39th overall pick is a bit of a stretch for Woods, but question marks surrounding Santonio Holmes health and future with the team, Woods can be a very explosive #2 receiver in the future.  He was overshadowed by the freakish athleticism and success of Marquice Lee at USC, but Woods is no slouch.  Woods was a Biletnikoff finalist last year catching 112 passes for nearly 1,300 yards and 15 touchdowns.  There are some concerns with his health, but his production and upside far outweigh that risk.  Another big selling point is Woods has a hand length of 9¼.  For a 6'1" wide receiver that's something to look at.  Not quite Hakeem Nicks 10½" hands, but measured as one of the biggest in the combine.
3. TE – Travis Kelce, Cincinnati / RB – Le'Veon Bell, Michigan State
If Ertz is taken before the Jets pick or if they pass on Ertz, the next best TE option is Travis Kelce.  Kelce is another big tough physical tight end with underrated pass catching abilities.  Watching film on both he and San Diego State's TE Gavin Escobar I see a lot of similarities.  Although Escobar may be a better athlete than Kelce, Kelce is a more solid route runner and can make tough catches in traffic a little better than Escobar.  Jets fans wouldn't be upset if they took Escobar over Kelce, but it's a win-win for the Jets to get either guy.  Kelce had some off the field issues in 2010, but his size and strength could make him a solid TE in the Jets new offensive system.
Le'Veon Bell is another mid round steal if the Jets could land him.  At 6'1" 230 pounds, he's a big running back with sneaky quickness, excellent vision and tremendous pass catching ability.  With Mornhinweg's new offensive philosophy the Jets will need a guy who can turn the corner on the outside in the run game, and also catch passes and get separation from slower linebackers covering.  Bell could be all that and more.  With Shonn Greene gone, the Jets need to pick a RB in this draft and if Bell's available the Jets would be wise to select him.
4. S – T.J. McDonald, USC / OG – David Quessenberry, San Jose State University
McDonald may be high on the Jets safety board because his father, Tim McDonald, is the Jets secondary coach now.  McDonald is big, strong and known as an "in-the-box" safety.  With LaRon Landry most likely leaving, the Jets need an aggressive run stopping safety and McDonald could be the guy.  The Jets have second-year players Antonio Allen and ball hawk safety Josh Bush but McDonald could add depth and see significant time right away.
Quessenberry had a terrific week at the Senior Bowl.  People were very high on his performance.  After the combine that stock dropped a bit, but there's no doubt, watching his footwork and pass protection in drills at Senior Bowl, that he can play guard in the NFL.  If the Jets choose to go with a defensive player in the first round, Quessenberry may fall into their lap with their 103rd overall pick.
5. RB – Christine Michael, Texas A&M / QB – Tyler Bray, Tennessee
If the Jets do not land Le'Veon Bell or if they want to ensure that they have three running backs in camp, they may choose Christine Michael as well (Bilal Powell, Bell, Michael).  Michael's accomplishments were overshadowed by the incredible season Johnny Manziel had running the ball for the Aggies.  Michael is a strong powerful runner that can hit the hole hard between the tackles and can make a quick explosive cuts.  On top of being a back that can play all three downs he could be the extremely reliable goal line RB the Jets never seem to have.
Tyler Bray is an interesting prospect.  He has a huge frame (6'6" 232 lbs) and a big arm.  He needs a tremendous amount of improvement to his footwork, speed and decision making, but he may be worth taking a shot at in the 5th round if he's still available.  The Jets need to take a risk on a quarterback if their board suggests it at this point.  They need competition in camp not only this year but for next.  Looking towards 2014, the Jets will not have a QB under contract (if they get rid of Sanchez after 2013) so they need young QB competition.  Granted Bray has a torn labrum he obtained during the Senior Bowl but he has the potential to be a successful passer in the NFL.
6. WR – Aaron Dobson, Marshall / OLB – Trevardo Williams, UConn
Dobson had a great career at Marshall.  If the Jets want to stockpile wide outs in a wide receiver heavy draft, Dobson could be a steal in the 6th round.  Dobson, like Robert Woods took a backseat this year to a young stud WR in Tommy Shuler.  He had 57 receptions for almost 700 yards.  In 2011, he scored 12 touchdowns, so he has a nose for the end zone.  He could help the Jets as a 4th WR in case of injury or if Stephen Hill doesn't improve.  He's a big play receiver after he catches the ball, which the Jets are going to need in the future.
Trevardo Williams has had a great deal of success as a pass rusher in his career at UConn.  He is slightly undersized but plays with leverage and is very strong.  He could be a great pick-up for the Jets in the 6th round in a position they so desperately need to rebuild.  He has a relentless motor, tracking down plays on the backside often.  He is a pure speed rusher, that didn't have to drop into coverage often in college so it's hard to say if he'll be well rounded.  In the 6th round, he's worth the risk.
7. OT – Braden Brown, BYU / RB – Montel Harris, Temple
The 7th round is a tough round.  In a generally weak draft, it's not evident that players in this round have a significant role in the NFL in their career.  Then again, who knows what these players can become.  Braden Brown could be a great selection in the 7th round.  The Jets tried to take an OL Robert Griffin (the other RG in last year's draft) and he never made the squad.  Brown is a much different prospect.  His footwork needs some improvement, but he is a hard working high motor kid who's humble and wants to make himself better.  The Jets need OT depth in case of injury to Ferguson or if Howard plays poorly (Austin Howard gave up more sacks last season than Wayne Hunter did in 2011).
The Jets, in the past few years, have seemed to like taking guys from local colleges.  Harris had a very successful 2012 campaign for the Owls.  He's very undersized and doesn't have elite speed, but he can be a change of pace back if the Jets don't get their top RB choices earlier in the draft.
These choices may seem like a reach at points, but remember…this list was put together to fit the needs of the team.  The draft will not be able to solve all of the Jets issues, but the choices in this article would definitely help.  There are so many different ways the Jets can go in this draft, but if they chose to pick in this order, I don't think many fans would complain.
Videos
Aaron Rodgers Injury Fallout & Jets/Bills Recap