Featured Editorials Home Slider
The Future Of Joe McKnight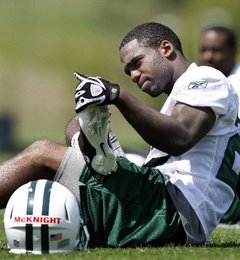 Unlike when a certain backup quarterback was traded to the Jets last off-season, there wasn't a huge press conference for former Raider running back Mike Goodson.
But the skill-set Goodson brings could spell the end for Joe McKnight.
I've always been a pretty big defender of McKnight. I think the talent he brings and the unique set of skills he has have been completely botched. On an offense that has lacked just about any sort of creativity and big-play potential, a dynamic player like McKnight should have been given more opportunities to touch the ball.
Goodson wasn't given a whole lot of opportunities in Oakland either but made the most of his when he did. He got 35 carries and averaged an absurd 6.3 yards per carry. What may prove even more important in Marty Mornhinweg's west coast offense is Goodson's pass catching ability, where he is more than capable of doing damage. Goodson had 16 receptions for 195 yards, good for 12.2 yards per catch average.
McKnight has been in New York for three years and has failed to really do anything productive on offense. Fumbling and injury issues have definitely plagued him, but at what point do you stop giving the guy a pass?
The writing is on the wall. Goodson is about the same size (slightly bigger), has been signed for three years, and has an identical skill-set to McKnight. How much do the Jets really think of McKnight as a running back anyway? Obviously not enough, as proven by his one-week stint at cornerback last season. Who knows how he reacts to having to learn another offensive system.
With a more balanced back in Bilal Powell set to get the bulk of the carries and Goodson already on the roster as a dynamic change-of-pace guy, the Jets may look to pick up a bruiser late in the draft or could be content with using Lex Hilliard in that role.
McKnight has been very solid as a kick returner and I think it's safe to say the move to trade Leon Washington and replace him with McKnight worked out well for New York. But how many times have we seen one pro-bowl kick returner leave and another one step right in? From Justin Miller to Leon Washington to Brad Smith to Joe McKnight etc. If McKnight leaves he'll simply be replaced by someone who will likely do his job just as well.
Again, this is all speculation. I have no inside sources (although it doesn't seem hard to get one) but I would be worried if I was McKnight, especially since the dead money against the cap if cut is pocket change ($125,250). Could the McKnight era be over before it even started?
Videos
Aaron Rodgers Injury Fallout & Jets/Bills Recap