Rex Ryan Works Out DE Margus Hunt At SMU Pro-Day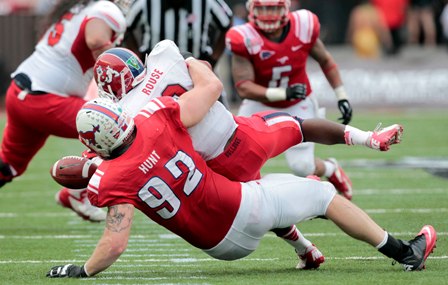 New York Jets head coach Rex Ryan was on hand for Southern Methodist University's (SMU) pro-day workout not only as an observer but a participant as well:
Ryan worked defensive end Margus Hunt out as a pass rushing linebacker.  Hunt, 6-8, 275, has drawn much interest because of his athleticism and strength. He opened eyes with his 4.6 40-yard dash and 38 reps on the bench at the combine.

The Estonian native, a former track & field star, is especially intriguing because of his versatility and potential. He has played football for only four years. He blocked 17 kicks during his career. Last season he had eight sacks and an interception.
Source: SportsDayDFW / Bill Nichols
Ryan's interest in Hunt has stirred some speculation about where the Jets might be headed in this year's draft.  Hunt has great athletic ability registering 11.5 tackles for loss and 8 sacks last season for the Mustangs.
Hunt is considered a late first/early second round prospect who could play defensive end in a 3 man front or in a 4 man defensive line, which could be seen used more by the Jets this season.  He also possesses the potential to be a stand-up outside linebacker in the 3-4 alignment.
Kristian Dyer of Metro-New York recently reported that the Jets are "eying options that would see them trade back in the first round."  Depending upon where they're first pick is or any additional picks Hunt could be an available fit for the Jets if they were to trade out of the #9 spot.
It is obvious that coach Ryan wanted to get a firsthand look at this particular player and only time will tell if he'll be a future Jet.
Videos
Aaron Rodgers Injury Fallout & Jets/Bills Recap