Revis Deal: At Best 50/50 Says Tampa Tribune's Roy Cummings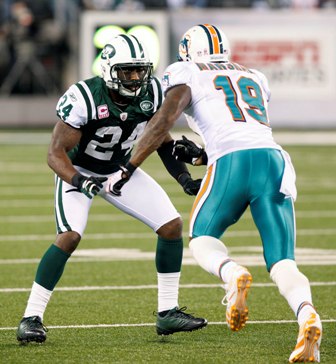 With all the media attention given towards a potential trade involving Darrelle Revis and the Tampa Bay Buccaneers, nationally and within New York, it is surprising that little if any information has been reported by the Tampa Bay media.
Had an opportunity to interview Tampa Tribune Buccaneers beat reporter Roy Cummings to get his view on what is going on with the Darrelle Revis trade situation

from a Buccaneers insider's perspective and go over his recent article titled: "Bucs-Revis talks to heat up again soon."
The entire interview will be played live Tuesday April 2nd at 8pm on JetNation Radio and can be heard later on-demand or at Jetnation.com soon after the show airs.
Cummings expressed the dire situation Tampa's in at the cornerback position saying, "The Buccaneers have a massive need at cornerback.  Coach Greg Schiano said at the owners meetings this year … we don't have enough corners right now to go practice so obviously it's a need."
When asked about whether or not Revis could be a good fit with the organization Cummings said, "Does he fit as a Buccaneer-Man, which is one thing Greg Schiano is big on, does he go through the character filter.  That's a question I'm not so sure about, I don't know Darrelle Revis that well I know he's had some holdout issues, the Bucs are not big fans of that."
Revis will be looking for a significant amount of guaranteed money in any new contract and is known to holdout or threaten to holdout when his guaranteed money dwindles.  "Darrelle Revis is going to have to realize coming off a knee injury his value isn't what it was two years ago, he's going to have to prove himself and that is why it is going to be hard to do a deal for him," Cummings said.
"Since Mark Dominik took over as the Bucs GM (general manager) in 2009 he's been very consistent with the way he's handed out guaranteed money, I won't say signing bonus, because they don't give very many of those in their deals.  Guaranteed money is usually paid out within the first two years of any contract no matter the length," Cummings explained.  When asked about reported contract figures being offered by the Buccaneers he replied, "Some of the numbers we're hearing are just not factual they don't make sense for the way Mark Dominik does contracts."
What are the chances a trade between the Jets and Buccaneers for Revis occurs before/during the 2013 draft?  "Today … the chances of a Revis deal getting done with the Buccaneers are no better than 50/50 at best they are 50/50," Cummings said, but did go on to point out that things could change as the draft approaches.  The Buccaneers will be getting a clearer picture of who'll be available at the #13 overall pick and if they would part with it in order to obtain Revis.
Videos
Aaron Rodgers Injury Fallout & Jets/Bills Recap