Draft Featured Editorials Home Slider
Are NFL Prospects 40 Yard Dash Times Overvalued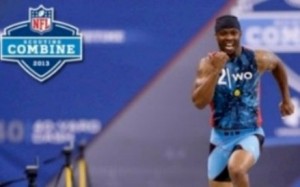 In the weeks leading up the 2013 NFL Draft much has been made about certain NFL prospects 40-yard dash times.  It's understood that the 40-yard dash is a good measure of overall speed and ability to maintain a speed throughout a lengthy run.  It is also used because the average football play is between 4-5 seconds which is where most players' 40-times will fall during their combine or pro day workouts.
The NFL and scouts have made this test much more accurate over the past 2 years, having agreed to use a fully automated system to time each athlete.  The test has evolved from humans timing both the start and finish, to later having an automated timer at the start and humans clocking the finish and now a fully automated timer.  The problem that the committee in charge of testing found was this new fully automated timing system took the luster away from player's posting amazing results.  The newer automated system provided more accurate and consistent times then the potentially flawed human timing.  Often a player's time was significantly higher up to 0.28 seconds above what scouts had recorded via handheld stop watches.
In 2013, the NFL is using fully automated timing devices along with two humans clocking the start and stop finding an average of all three.  Should an average time be used in a drill that so many team scouts value as a "make or break" drill at the combine?  If this drill is so important, why do players run them two times each at the combine and/or pro day never running it again during their professional careers?  All of these questions are enough reason to say that the 40 yard dash test is overvalued in the NFL.
The most important part of this test is the first 10 yards.  It's all about the start, stance and the first two steps of the drill.  Often times, athletes will burst out of their stance only to be stopped by a scout because they either false started or never got fully set before running.  This first 10 yards can make all the difference in a player's total time.  If an athlete can decrease their time in the 10 yard dash they can lower their overall time as a whole.  In fact, as you get to 30 yards in this drill, athletes tend to slow down due to the fact that they are standing virtually upright and lunging towards the end of the drill.  Therefore, by making the first 10 yards quicker and getting to top speed faster, the athlete could actually decrease their time.
Since all scouts know that this is the case, why don't they put more emphasis on the 10 yard split rather than the 40 yard?  How often in an NFL game will a player run 40 yards in a straight line?  Wouldn't 10 yards be more game realistic?  Anytime a player has a poor 40 yard dash time scouts say, "Trust the tape."  They say this because these players have game speed that's important for their position.  For instance, a defensive end or outside linebacker will almost never run a direct straight line for 40 yards unless they're picking up a fumble and running it back.  They're more likely to run 10 yards to the QB and then have to change direction to make a play.  This is the reason scouts tell the media to "trust the tape."
A lot has been made of Manti Te'o's poor 40 yard time at the combine, but showed improvement the 2nd time.  Is this the reason he's now being put in the 15-25th pick overall range again in most mock drafts?  A player who had 7 interceptions and 113 tackles should be in this range in the first place.  After the NFL scouting combine people were saying he could go as low as the middle of round 2.
Jarvis Jones ran an "unimpressive" 4.9 second 40 yard dash at his pro day and his stock has dropped because of it.  Have these scouts taken into consideration the fact that he has 28 sacks in his last 2 seasons in the country's best conference, the Southeastern Conference (SEC)?  He by far had the most sacks of any of the prospects at his position in this year's draft.  There is concern about his Spinal Stenosis issues of the past but was given a clean bill of health after several doctors examinations.  Some may wonder, if he is fully healthy then why did he run a 4.9 40 yard dash at the Georgia Pro Day?
Terrell Suggs had terrible test results during his pro day workout at Arizona State.  He ran a 4.85 when scouts thought he'd run a lot better.  He was supposed to be a Top 3 overall pick.  He "fell" to the Ravens at 10th overall because of his pro day.  How'd he pan out for the Ravens?  85 sacks and 7 interceptions and is arguably still in his prime.
Anquan Boldin ran a 4.8 second 40 yard dash, Jerry Rice ran a 4.7, and even Larry Fitzgerald, arguably the best WR in the game today ran a 4.63 on his 40 yard dash.  All three have been pretty solid professional receivers and no one would argue that.  Keyshawn Johnson (who ran a 4.47 40 yard dash) had a great quote about speed and the 40 yard dash results.  He said "It's not how fast a player is going forward, it's how fast they can stop, change direction, and create space."  All the more proof that there's too much overhype on the results of a 40 yard dash pre-draft.
A lot of factors can affect how an athlete runs this test.  Running this test, like most of the other combine tests is all about technique and mechanics.  It's more of a science than most people think.  Some things that can affect an athlete's times are as follows:
Poor stance and start
Improper running mechanics
Small, non-explosive first step to start the drill
Standing upright too early in the run (before the 30-40 yard split)
Lack of sleep prior to the workout (any trainer would tell you that sleep and nutrition prior to any workout are the key to performance)
Improper eating the night before or day of the test
These are just a few factors that could have led to any athletes disappointing 40 yard dash times.  These are not excuses made for an athlete being less explosive or athletic than others, but more about inappropriate training or diet patterns.  The result doesn't mean that this athlete will be this speed when he hits the field in OTA's or mini-camp.  In fact, most players when timed on a long run during a game, run 40 yard dashes in remarkable times because game-play and game speed is always different from testing speed.
The fully automated timing systems should be used going into future combines. They are the most accurate times because they are done using a laser at the start and a laser at the end.  However, NFL committee members are so fearful for prospective athletes being judged as "slow" when being considered by teams because this testing will result in slower 40 yard dash times.  The times of the 4.25-4.35 second 40 yard dash would be no more, but if all scouts and team officials are on the same page with this, it will be more respected in the long run.  4.5 seconds to 4.8 would be considered "elite" level with the fully automated timing system. It would require a change in mindset by all to make it successful.
Even with this new system, scouts put too much emphasis on the numbers these athletes achieve. The best way to evaluate prospect talent is by watching their game films, change of direction drills, agility drills (like the 3 cone drill) and broad jump and vertical leap to display overall explosiveness.  If scouts focus more on these game speed types of drills, they will be able to evaluate players on a much more realistic base.
The bottom line is for fans to stay away from getting caught up in combine and pro day numbers, particularly the 40 yard dash.  Not advocating taking the test out completely, but scouts and fans need to take emphasis away from it and onto more game relevant drills.  After all, Vernon Gholston was a workout warrior and posted tremendous workout numbers at the combine.  He didn't pan out in the least bit at the NFL level and was a Jets draft bust.
Watch game film and watch the players at game speed, especially against good competition (i.e. Jarvis Jones versus Florida, Texas A&M, and LSU).  This is what will separate players and what team scouts will ultimately look for when putting together their draft boards.  Gone by the wayside are the workout warriors moving up draft boards because they can test well.  Teams will pick the players that fit their scheme by watching game speed film.
Videos
Aaron Rodgers Injury Fallout & Jets/Bills Recap