Could RB Ivory End Up A Jet, Pays Team A Visit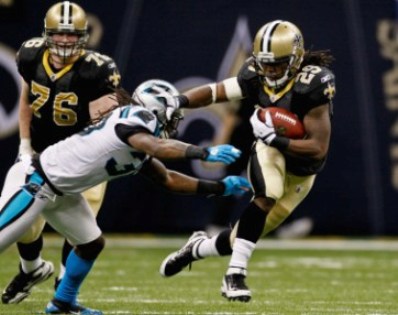 Restricted free agent running back Chris Ivory visited the New York Jets on Friday.  Ivory was given a second-round tender, a contract offer, by the New Orleans Saints so any team attempting to sign him would have to give up a second round draft choice as compensation.
With the Saints having running backs Mark Ingram, Pierre Thomas and Darren Sproles on the roster Ivory had become a forgotten man in the offense only having 40 carries and 2 receptions last year but has a respectable 5.1 yards-per-carry average for his career.
It is unlikely the Jets would make a large enough offer and part with their second round choice to obtain Ivory as the Saints would have the right-of-first refusal, could match any offer and retain the running back, but this does not mean the Jets cannot work out another way to acquire Ivory.
Currently Ivory has a one-year contract offer of $2.023 million from the Saints.  The restricted free agent signing period ends on April 19th then Ivory becomes the exclusive property of the Saints, not able to negotiate or sign with another team. 
So it is possible to obtain Ivory if the Saints sign him and agree to trade terms with Jets.  Since Ivory seems to be odd-man-out of the offense yet has desired ability the Saints might be willing to part with him for less than the second round pick which is required now.
Ivory would be a nice addition to the Jets backfield and the Saints might make a draft day deal given his limited role.  Ivory's visit is an indication that the team's interested and there is a possibility for him to become a Jet if the price is right. 
Videos
Aaron Rodgers Injury Fallout & Jets/Bills Recap