Sanchez Talks Tebow, Ryan, Idzik And Hill In Radio Interview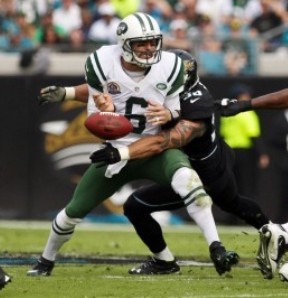 New York Jets quarterback Mark Sanchez has spent a vast portion of the offseason working with former quarterback Jeff Garcia in an attempt to learn new offensive coordinator Marty Mornhinweg's west coast offense.  Sanchez knows this is a "make or break" year for him with the Jets.
Coming off a very difficult 2012 season which Sanchez was replaced as the starter by Greg McElroy, only to regain the position later after McElroy suffered a concussion, he has stayed out of the public eye saying almost nothing. 
Sanchez finally broke his silence during a Fox Sports Radio interview where a multitude of subjects were touched on including Tim Tebow and the organization's decision to allow ESPN coverage of the Jets training camp practices mostly because of Tebow's presence. 
"I just don't know if it was the best situation for either of us (Sanchez and Tebow), but you play with the cards you are dealt with and do the very best you can," he said. "ESPN didn't necessarily sneak in overnight at our training camp. They had to get permission to go."  Sanchez went on to describe Tebow as a "nice guy" who "works hard."
Sanchez mentioned his feelings on head coach Rex Ryan needing to "prove himself" this season.  "I think we enjoy playing for Rex. We know he's a great motivator, and he's passionate about what he does, and we've seen him be successful," he said. "We've seen him put this team in a good position and a successful position. I am confident in Rex."
Describing Mornhinweg's west coast offense as "different" Sanchez said he was "excited about (playing in) the system."  He also praised second-year wide receiver Stephen Hill saying, "Stephen (Hill) just seeing these last couple days in workouts, he looks like a different person, he looks so much more developed just physically, emotionally and mentally … he's going to make a big jump I think this year."
Sanchez discussed the vast amount of injuries the Jets offense had especially at receiver, "I don't think we had a single receiver make it through the entire season."  He mentioned the passing game "last year wasn't out best" due to the lack of constancy at the receiver position but added he wished he had played "a little better at times."
The Jets quarterback showed confidence in new general manager John Idzik saying, "I know Mr. John Idzik is going to make the right decisions come this draft and try and help this ball club, so I'm really positive and optimistic about the direction we're heading."
Videos
NY Jets Phase 3 OTAs, Expectations and a Minor Calf Tweak with Greg Renoff