Jets Select Dee Milliner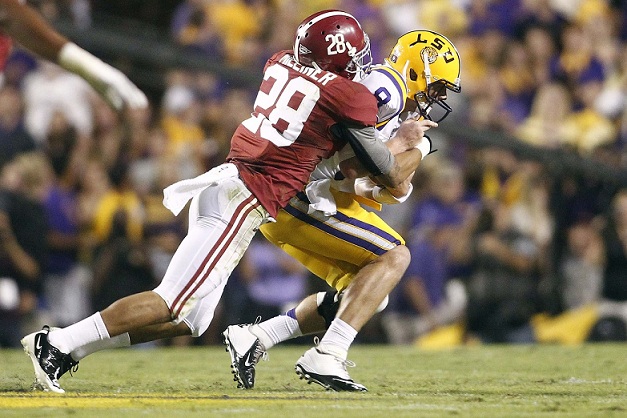 The Jets selected Alabama cornerback Dee Milliner with their first selection (#9 overall) in the 2013 NFL draft.  The 6'1″ 197lb corner was asked before the draft what he thought about potentially replacing All Pro CB Darrelle Revis.  He responded:
"They like me," Milliner said of the Jets, via the New York Daily News. "I know they probably like me even more now since they got rid of Revis."
There was some concern with Milliner because of a torn labrum and other injuries.  Alabama team doctor E. Lyle Cain Jr. said it was a "relatively small labral tear" and that he expected Milliner to be ready for training camp.
Scouting Analysis from CBS Sports:
STRENGTHS: Built well for the position. Plays with excellent coordination and smooth hips, using his arms and hands to knock down throws. Excellent awareness and read/react ability, getting his head turned and uses his eyes well to quickly find the ball.

Attacks the run and is a very good tackler, never backing down. He is a bruising hitter and does a nice job separating ball from receiver with terrific timing. Plays tight bump-and-run and enjoys pressing with little cushion. Closes quickly and baits throws, looking to make a play on each snap.

Smart and disciplined, but not shy about coming off his man to make a play. Physical striker and does a nice job avoiding blocks while keeping his eye on the ball. He processes information quickly and looks comfortable in space.

WEAKNESSES: Lacks elite speed and quick-twitch ability. Plays too aggressive at times and will take himself out of the play, missing some tackles. Has just one full season as a starter. Needs to refine some of his cover technique, most notably his backpedal.
For more information and fan reaction please check out this thread on Dee Milliner from our forums.
Videos
Aaron Rodgers Injury Fallout & Jets/Bills Recap