D'Brick Restructures Contract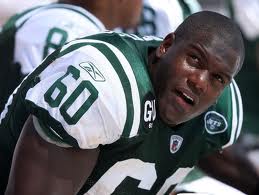 For the second time in two years, Jets left tackle D'Brickashaw Ferguson has restructured his contract, as reported by Brian McIntyre of Yahoo! Sports.
New on Shutdown Corner: Jets clear $5.128 million in cap space by restructuring the contract of D'Brickashaw Ferguson sports.yahoo.com/blogs/nfl-shut…

— Brian McIntyre (@brian_mcintyre) April 26, 2013
Ferguson was due to make $8 million dollars this season with a base salary of $7.25 million and a $750,000 workout bonus for a total cap hit of $10.716 million. The new contract looks like this:
-A base salary of $840,000, the league minimum for a player with seven accrued seasons.
-The remaining $6.41 million will be converted into a signing bonus prorated over the next five seaosons.
-The $750,000 workout bonus will not be changed.
The Jets have cleared $5.1 million dollars in cap space due to this new move.
There are two things that stood out to me: What are the Jets clearing cap space for? The obvious speculation is a deal for Chris Ivory is imminent. Also, D'Brickashaw has been in the league for seven years? It seems like just yesterday he was taken fourth overall…
Videos
Aaron Rodgers Injury Fallout & Jets/Bills Recap