Draft Featured Editorials Player interviews
Dee Milliner Interview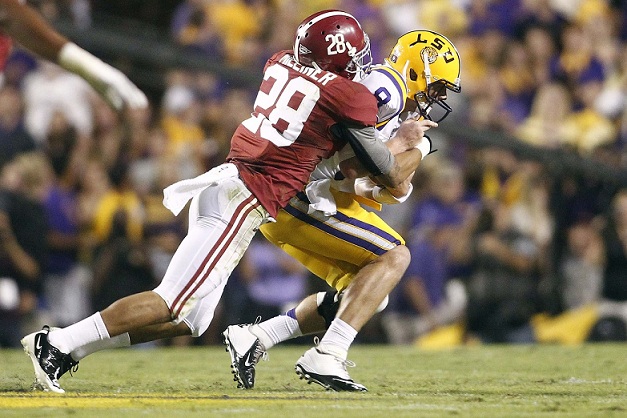 Dee Milliner was selected by the Jets in the 1st round of the 2013 NFL draft.  He spoke to the media and here is what he had to say.
On being selected by the Jets…
I feel great. I'm excited to be in New York.
On competing with Kyle Wilson for the second cornerback position…
I'm just trying to go out there and compete. I'm trying to go out there and try to make plays, play some good defense, and play football.
On if he feels any extra pressure after the team traded Darrelle Revis…
No, I'm not really focused on or worrying about that. He got traded. I'm just coming in to compete for a job, play football, and see what I can do.
On his health and when he will be ready for full contact…
I just want to get back into rehab. I'll be fine. I have no idea but, before training camp.
On if he knew the Jets were interested in him…
Yeah, I had a good talk with the coaches when I went up there to visit. I felt very comfortable and strong about it and it finally happened.
On if he heard the fan reaction at Radio City Music Hall…
Yeah, it was great. I (was getting) a big hug from everybody. It felt great.
On his surgeries…
It's nothing that kept me from playing great on the field. I never had any setbacks from it. They always monitored it and it's nothing really big and you'd see that if you watched film. I'm out there playing.
On the selection of three consecutive Alabama players…
It was great. We needed one more to fill the house, all four Alabama players being selected. It's great to have your teammates being selected (in) the draft. You played with them and I wish those guys well.
On if he expects to be compared to Revis…
I'm not really worried about comparisons or anything like that. I'm trying to go out there and compete for a job. (I'm going out there) in a new place, start from scratch, and get (on) the grind.
On how much man coverage he played at Alabama…
That's mostly what we did. There was a lot of motioning around. That's what we did. We played a lot of man and blitz also too, so that's going to be a perk.
On how is labrum is…
It's all good. I feel great. I'm already ahead of schedule. I'm ready  to do push-ups.
Videos
Aaron Rodgers Injury Fallout & Jets/Bills Recap