Featured Editorials Home Slider
John Idzik: "You're Going To Stick To What You Believe In"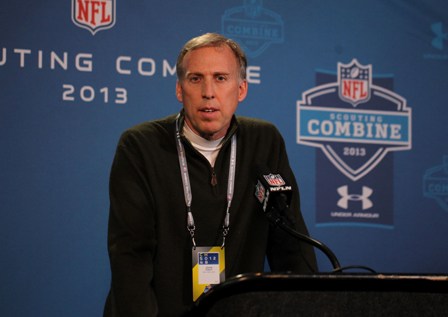 The Jets doubled down on defense in the 1st round of the 2013 NFL draft.  John Idzik spoke to the media and shed some light on the thought process behind ignoring offense with the 9th and 13th picks.
On whether they were tempted to draft an offensive player…
Idzik: You're tempted, but you're not going to going to succumb to temptation. You're going to stick to what you believe in, and that's if you have players on your board you highly value, then you're going to stick to the talent base. That's exactly what we did.
On whether there were any offensive players on their board close at the 13th pick…
Idzik: Yes, in fact as we saw the first round come off, this draft, we've said it's kind of unique because there's an upper crust. I think our upper crust was very similar to a lot of teams, so we saw a few of those players come off. Even with that, again, I back up to say we selected two of our top four players on our board, period and we're extremely thrilled to have that. We were in a very unique position that way, especially considering this draft.
On not selecting any offensive players in the first round and where the team stands in that regard…
Idzik: We're not done. We have two days of work to do. We also said from the beginning we feel this draft is very deep. We're going to take the same philosophy going forward into the second (round), the third (round) and right on through the draft. We're going to take the best players. We're going to assemble the best team of players and let them compete. That said, once you get down a little bit further in the draft, it stands to reason by numbers (that) there will be more offensive players that will stack up. We're cognizant of that, so we'll address need, but again, talent will trump need, especially higher in the draft.
On how many offensive players they had in their top four…
Idzik: We had a number of offensive players in our top four. We picked two of the top four.
The draft resumes tonight (Friday) with rounds 2 and 3 starting at 6:30pm.   It concludes on Saturday with rounds 4 through 7.
Videos
New York Jets OTA Presser Takeaways, Aaron Rodgers' Impact and Summer Delusion